Who still buys a newspaper?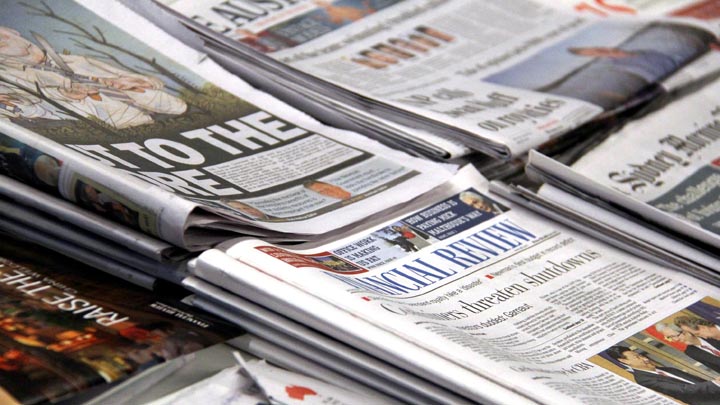 Who still buys the newspaper? Not many people in our country according to the latest circulation figures. It has got me thinking how our behaviour is changing.
Australian circulation figures were out last week for the December quarter, and it is nothing short of disastrous for media companies relying on print or digital platforms where payment is required. We know anecdotally that papers have been getting thinner and thinner and that full page ads are almost non-existent in today's papers, whereas years ago, they would have been significant. I suspect many people here reading Starts at 60 have moved to consume media that is free, rather than pay for traditional out of date print. Do you read the paper any more? How often?
The Monday-to-Friday Sydney Morning Herald's circulation is down 13 per cent to 114,634, while the Saturday edition was going better: down 8 per cent to 180,400.
Total print sales for The Australian (which combine print-only sales with those of print bundled with digital) fell 6.7 per cent to 104,700.
The Weekend Australian's total print circulation was 227,400, down 6.1 per cent. In 2001, 14 years ago, The Australian had more than 430,000 daily buyers, and the Sydney Morning Herald had more than 817,000 people purchasing.
Ad. Article continues below.
It has been bad for years in newspapers, with Fairfax and News Limited gradually accepting that their traditional business models are broken. They keep trying to force the hands of consumers into purchasing their media and some might say they have been moderately successful, with digital subscriptions for the Sydney Morning Herald now sitting at 97,000 and the Saturday editions sitting at 61,000; whilst The Australian has only 59,800 digital subscribers with 49,000 on Saturdays.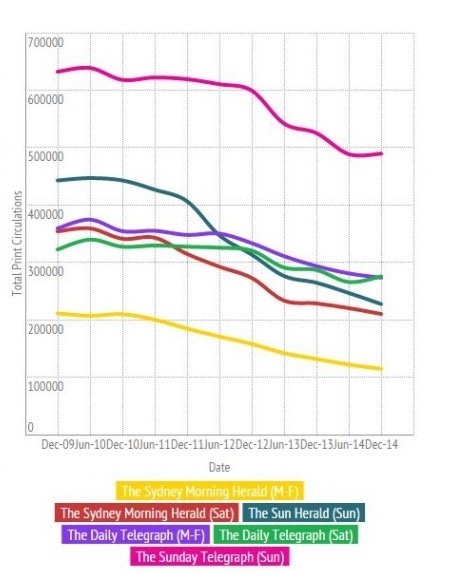 The above graph from Crikey.com.au highlights the massive change in the way we consume our news. When we have more discussion based platforms through social media like Facebook and Twitter, we no longer feel like we need to pay for the media. Social discussion where personal opinions and perceptions are being conveyed is becoming more important and the hard facts, which are disputed for being manipulated, are becoming less important to feeling informed.
The way we choose to consume our news is changing dramatically and before too long, the idea of paying for the privilege of being informed will be completely outdated.
Do you still read the newspaper? Which ones do you buy or subscribe to? If not, where else do you get your news?