Where can you call home when you're on the road?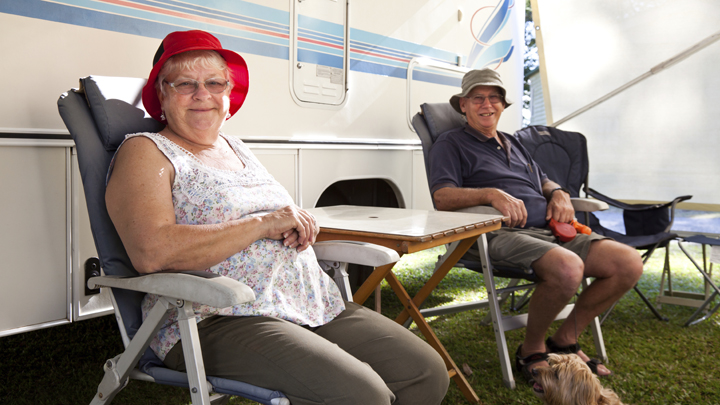 It is a question that we get asked often when we write about the grey nomad lifestyle or when our community bloggers share their own experiences. It comes from people who want to enjoy the grey nomad lifestyle, but also want to have the option of settling down… This question is, "where can I make my home base while I'm on the road?"
To the average person it might seem rather contradictory, setting out for a life of nomadic adventure but wanting to have ties to one place at the same time. But in the nomad world, it actually makes perfect sense.
Sometimes, you need a little holiday away from your holiday. Sometimes, you need to recoup, restock or re-prepare yourself for your next journey, and it is nice to have somewhere to always go back to for those reasons. And the great thing about Australia is that there are so many wonderful places where you can stay for a few days, a week, or even a month or two to do this. Many of these places are specifically for over 50s, they are designed as a home base for those who like to adventure and offer all of the services you could need in between journeys. And the best part is, they are all community oriented. They are full of likeminded people who enjoy meeting others out on the road.
So take a look here at some of Australia's best nomading "home bases"…
Queensland: RV Home Base (Hervey Bay, Fraser Coast) 
Ad. Article continues below.
Accommodation: Actual homes designed for over 50s living the grey nomad lifestyle. Choose from two or three bedroom homes complete with specially designed RV ports with all leads, connections and tools necessary to hook up and keep your motorhome serviced.
Facilities: RV homebase comes complete with everything you could want in resort style living. A pool, large community centre, restaurant, entertainment, clubs and activity groups are all available on site.
New South Wales: Casino Resort (Casino) *pet friendly
Accommodation: Powered and unpowered sites are available as well as powered sites with private bathrooms for those staying a little longer.
Facilities: There is a golf course, dog off leash park, community centre and pool. This is also a village specifically for over 50s so you can be sure to enjoy meeting new people in the nomad community here.
Ad. Article continues below.
Victoria: Portland Tourist Park (Portland) 
Accommodation: Powered and unpowered sites are available as well as powered sites with private bathrooms for those staying a little longer. There is also cabins available for a more contained stay.
Facilities: This site is every nature lovers dream. Set in beautiful bushland a short drive from the beach, you can experience the best of both worlds and enjoy Australia's natural flora and fauna. Spot the koalas in the trees and try some bird watching. Enjoy treks or go for a swim. It is ideal for boats with a boat wash facility and a communal camp kitchen too.
South Australia: Barossa Valley Tourist Park (The Barossa)
Accommodation: The Barossa Valley Tourist Park has every type of accommodation imaginable available. You can stay in cabins, in luxury suites, in a powered or unpowered site, in an ensuite site or in a family unit.
Ad. Article continues below.
Facilities: In the heart of the Barossa, the tourist park is decked out with everything any one of any age could possibly need. In between winery visits enjoy games of tennis, a walk along the lake, a picnic, outdoor fires, use the camp kitchen or connect the park wifi to check in with the family.
Western Australia: Pilbara Holiday Park (Karratha) 
Accommodation: One of the best holiday parks in the region, you can enjoy luxury in cabins or chalets for up to six people or you can organise to have a powered campsite, a powered paved site or an ensuite site depending on your needs.
Facilities: Right on the water you can enjoy the local area and sight see some of Western Australia's most famous icons (Red Dog, the stairway to the moon) or you can stay on site and enjoy swimming by the pool or sitting under a shady tree reading or having a picnic.
These are just a few of the great places that you can stop and enjoy along your grey nomad adventure, but tell us, where do you consider home when you're on the road? Do you stay at a home base?