"Where are you going?" How I began nomadding and why you should too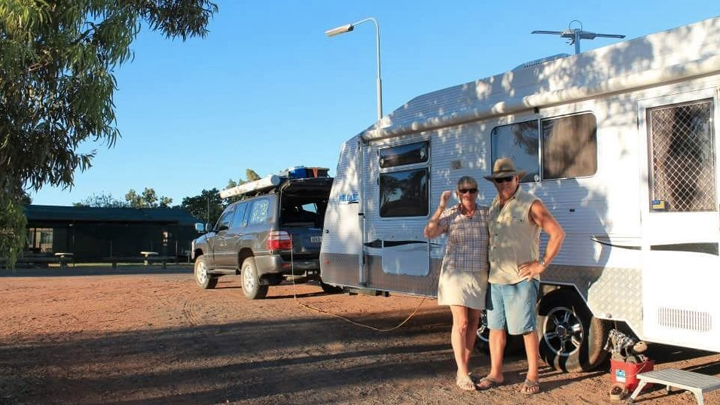 In 2010 my husband and I retired, sold everything, invested the proceeds and hit the road in our caravan to explore the real world. We are still out here and love our interesting life and have just updated our trusty caravan with a view to continuing on for as long as we can.
For those interested in full time nomadding there are some things I must tell you because full time travelling is different to holidaying for a few months at a time and if you treat it the same you may burn out within a couple of years.
One of the most important things to realise is that you can't just drive and drive every day. Firstly, few people could afford the cost of fuel. Secondly, you won't see much if you are focused on where you are going rather than where you are. Thirdly, you'll miss the two most important reasons for being out here: the people and the communities you find along the way… because you'll just shoot through.
Also with occasional exceptions you no longer HAVE to be anywhere at a specified date or time. People I have spoken to who have tried to live to a timetable tend to burn out after two years. There's no need for timelines any more…you've retired. No more back to back meetings. No more having to be at work on time. You are FREE of that now and embracing this freedom is one of the hardest things I had to do. I mean, a responsible adult is supposed to know where she is going and what time she is leaving and arriving. I still cringe when someone asks "Where are you going?" and I have no idea.
Ad. Article continues below.
In trying to embrace this new kind of existence I felt insecure and irresponsible for a year but now, if I have to make a date and time to be somewhere I get quite stressed. We never book ahead. We are completely self-contained and it is fine to freecamp if there is no caravan park available.
We only drive a couple of hundred k's a day at the most. One day we only drove 60km and stopped when we arrived at Bitter Springs because it looked magical and before we knew it we had found a job at a tourist park and stayed there for three months. This has happened in many places. Alice Springs where I was a tour guide for 9 months. The Pilbara where my hubby worked in mining for three months. We are able to stay in any place that grabs us because there are no plans to get in the way. We enjoy really getting to know communities and people and seeing Australia from a different perspective than that of a tourist. We never set a time limit but we honour our promises to employers and because we're reliable we have return invitations from communities all across Australia. This is a good life – why not join us?