When the world turned blue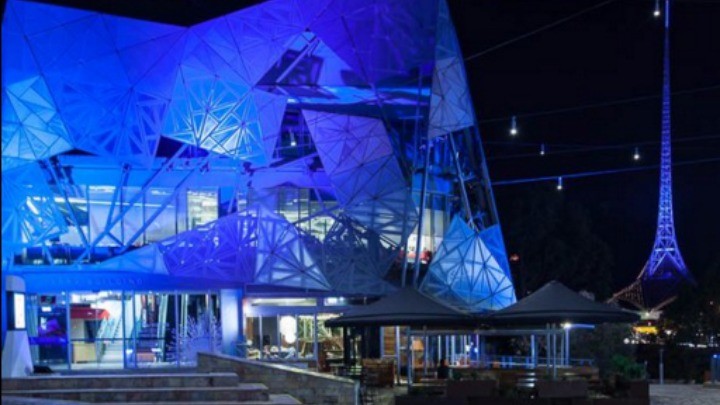 Last night more than 200 famous landmarks the world over have been lit up in blue hues to mark the 70th Anniversary of the United Nations.
As the procession of blue made its way across the globe, lighting up the conventional icons such as the Eiffel Tower, Pyramids of Giza, and the Empire State Building, some not so typical landmarks also featured.
At home in Australia, Uluru was, for the first time, and with the traditional owner's approval, awash the UN logo. This also coincided with the marking of 30 years since Uluru was handed back. Capital cities around Australia also joined in the celebration, from Melbourne, Sydney, Brisbane and across to Perth.
Other landmarks to join in the party included Copenhagen's Little Mermaid, The Great Wall of China, the Leaning Tower of Pisa and even Milad Tower in Tehran, Iran.
70 years ago, the UN was formed to "to save succeeding generations from the scourge of war."
Ad. Article continues below.
As UN Secretary-General Ban Ki-moon told the UN assembly, "Without the United Nations, our world would be a far bleaker place. We have brought freedom to millions, dismantling colonialism, defeating apartheid and defending human rights for all, regardless of race, religion, nationality, gender or sexual orientation."
"By turning the world UN blue for a day, we can light a way to a better tomorrow."
Foreign Minister Julie Bishop, also spoke at the Assembly, at which the 193 member states unanimously reaffirmed its faith in the UN's charter and provided an inspirational account of Australia's participation in the formulation of the original UN charter and of it's role in the delivery of the UN's work today.
The video can be viewed here.
Has the UN made the world a better place? Do member states need to be held more accountable for atrocities or war and plunder of its own people?
Ad. Article continues below.
70y ago today, @UN Charter went into force. We reaffirm our faith in #humanrights & the equal dignity of all #UN70 pic.twitter.com/vzwGZSLUKg

— UN Human Rights (@UNrightswire) October 24, 2015
Uluru lit up with United Nations logo on 70th anniversary: More than 25 other Australian locations including t… https://t.co/z5MCPKCdOQ — Politics Insight (@PoliticsInsight) October 24, 2015
More #Melbourne sites go #UNBlue for @UN's birthday #UN70 Royal Exhibition Building @unesco https://t.co/fnS52o1Y80 pic.twitter.com/UGarFxFe1B

— DFAT (@dfat) October 24, 2015
Ad. Article continues below.
#Denmark joining the #UN70 celebrations. The Little Mermaid in #UNblue. @tivoli and @Nikolaj_CCAC up next. #UN70 pic.twitter.com/n4k6R0VcNv — UNCity Copenhagen (@UNCityCPH) October 24, 2015
How do 300+ iconic sights in 75+ countries look in #UNBlue? Here's Petra #Jordan: https://t.co/ojqD5FMMbP pic.twitter.com/7LG0MUxYpN

— UN Development (@UNDP) October 24, 2015
Ad. Article continues below.
China, India, Indonesia, Lebanon – see all #UNBlue photos in our #UN70 gallery on @Flickr: https://t.co/vQQcGR8CkQ pic.twitter.com/aUJigp8Axo — United Nations (@UN) October 24, 2015
#Brisbane landmarks celebrate @UN 70th anniversary by turning blue #UNBlue https://t.co/fnS52o1Y80 pic.twitter.com/08j6Ykq5WF

— DFAT (@dfat) October 24, 2015
Blue + bending: Leaning Tower of #Pisa to turn blue on Oct 24 for #UNblue http://t.co/JaLqxRhcX6 pic.twitter.com/31ZdDJZvgL — The Florentine (@TheFlorentine) October 15, 2015
Ad. Article continues below.
الأهرام و أبو الهول تضي بلون الأمم المتحدة الأزرق : تحية 7 آلاف سنة حضارة للأمم المتحدة في ميلادها #UNBlue #UN70 pic.twitter.com/PQFdCrLG0w

— UN Info Centre Cairo (@UNICCairo) October 24, 2015
— DFAT (@dfat) October 24, 2015
#USAfricaBF Blog: RT welovehistory: Tonight edinburghcastle has turned #UNblue to celebrat… pic.twitter.com/G8jfpZwLKQ pic.twitter.com/vf43rAwQCy

— #Mayo360Group (@Mayo360Group) October 24, 2015