When the republican meets the Queen: Malcolm Turnbull prepares for lunch with Her Majesty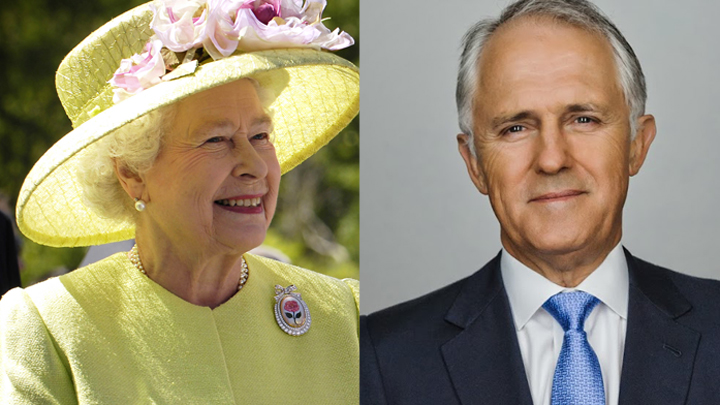 He's a staunch republican but that won't get in the way of Malcolm Turnbull meeting with the Queen next month, in fact it could lead to some interesting discussions about the Commonwealth.
Malta will hold the Commonwealth Heads of Government meeting in November, with our PM to meet not only the Queen but Prince Philip, the Duchess of Cornwall and Prince Charles – to be the men's second meeting this year.
According to Buckingham Palace it will be the first time Mr Turnbull's with meet the Queen. Immediately after the official opening ceremony of the meeting on November 27, all new leaders from Commonwealth countries will attend a special drinks reception followed by lunch. It will be held at San Anton Palace, the official residence of the president of Malta, and is hosted by both the Queen and the Prince of Wales.
And for those wondering who else will be joining Malcolm Turnbull, he isn't the only new prime minister in government – there are 18 that have been appointed since the last CHOGM, including Canada's Justin Trudeau who was sworn in last week.
Mr Turnbull will also attend a 'special executive session on climate action', with Prince Charles. SMH reports Malta's environment minister said was aimed at generating support for an "ambitious, equitable and inclusive outcome" at the following week's negotiations in Paris over a new global climate change plan.
Ad. Article continues below.
Speaking on the Today program last month the prime minister said he wouldn't push for a new referendum while the Queen is alive. "The next occasion for the Republic referendum to come up is going to be after the end of the Queen's reign," he said. "I think that will be the next watershed event, if you like, that will make that issue relevant. That doesn't mean that it will happen. I think that's when people will be paying for attention to it.
"While I am a republican, I have to say to you, there are much more immediate issues facing me and the government than the republic".
It is reported that Turnbull's wife Lucy Turnbull met the Queen in 2013 during her visit to a children's hospital and controversially, she declined to curtsy. Royal insiders have advised that it is not mandatory to curtsy for the Queen.
Tell us, do you think Malcolm Turnbull should discuss any issues in particular with the Queen? What would you like to see come of this important event?