What will happen to Syria's grandparents?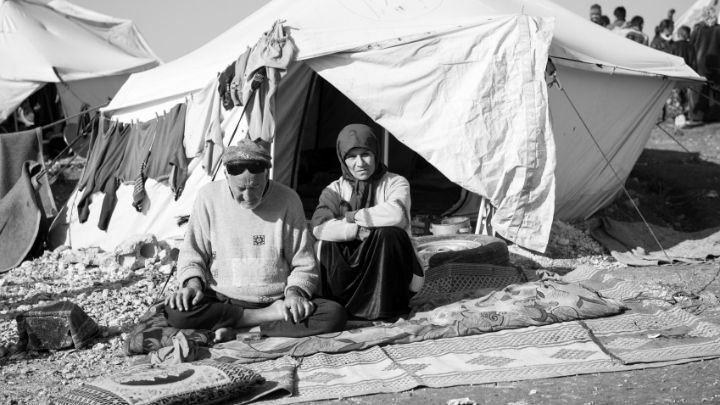 Prime Minister Tony Abbott has announced Australia's commitment to the Syrian refugee crisis, which will include $44 million for the United Nations Refugee Agency, increased air strikes, and a safe haven for a large number of Syrians from persecuted minorities.
Mr Abbott is clear on who will be allowed into Australia: "women, children and families from persecuted minorities".
He was eager to point out that this last caveat did not limit the intake to Christians but would apply to people from Muslim and non Muslim minorities who can never return home.
All together, Australia will take 12,000 Syrian refugees, on top of our current intake of 13,750 refugees from around the world.
But we can't help wondering about those who will be left behind.
Ad. Article continues below.
According to the Caritas Lebanon Migrant Center (CLMC), older Syrian refugees are not receiving the help that they need. Their research says 61 per cent of older refugees in Lebanon reported feeling anxious, and 10 per cent are unable to leave their homes – proving a challenge to the traditional methods of aid agencies.
Meanwhile, 87 per cent of older refugees in Lebanon are unable to afford the medication that they need a staggering 98.5 per cent struggled to see a doctor when they needed one.
In the picture above, Muhammed Ramadan, age 90, sits with his wife outside their tent at the camp for displaced persons in Atmeh, Syria. They fled violence in their home town in Idlib province and are part of the mammoth humanitarian disaster facing Syria and surrounding countries today.
Where will people like Muhammed Ramadan and his wife go? Who will take them in? Or will they spend the last days of their lives languishing in a refugee camp? What will happen to the grandfathers and grandmothers left behind?
While it's great that Australia is willing to provide a safe haven for 12,000 refugees in this, the biggest exodus since World War 2, the government is quite clear on the fact that only "useful" people will be accepted.
Ad. Article continues below.
The Prime Minister says applicants will be fast-tracked and assessed for "health, security and character".
"It is important we bring in people who are going to contribute to the Australian community, don't want to bring in people who will be a problem," he said today.
"It's important we act with our head as well as our heart; but that we act in a measured and considered way."
Tell us: are you happy with Australia's commitment to the refugee crisis?