What is going on? Tony Abbott and Bill Shorten face off yet again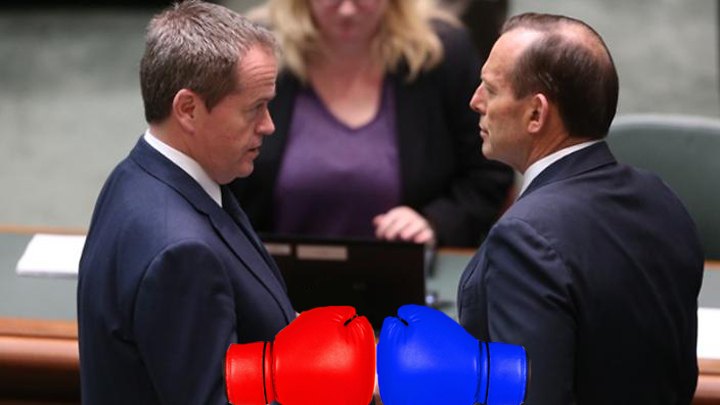 It's hard to remember a time when there wasn't mud slinging between politicians, but it did exist. It is fair to say the back and forth bickering between parties has left Australian politicians in shambles, this week particularly, following the controversial pension changes.
Have we reached peak stupidity? At question time yesterday, Tony Abbott used his time to berate Bill Shorten. Whether or not he deserved it is another matter, but the way in which he did it shows the complete lack of trust or even human decency between parties and party members. It's a 'he said, she said', all-out battle and none of it looks good to anyone, especially the Australian voting public.
We've had to ask ourselves, when will this end?
Bill Shorten took to the floor at question time and said, "Before the election, the Prime Minister said, 'only the Coalition can be trusted when we say there will be no deals with the Greens'… Given the Prime Minister has now done dirty deals with the Greens on the debt ceiling and slashing part pensions, how can Australians believe a single word this Prime Minister says?"
You could almost hear Tony laughing from the bench before he got up to say, "I am a little surprised that the Leader of the Opposition should choose to start question time today talking about trust, given what we were told on The Killing Season last night". He was of course referring to the ABC's three-part docu-series on the Rudd-Gillard-Rudd debacle.
Ad. Article continues below.
"I want to say publicly 'thank you to the ABC. Thank you to the ABC'"
"I don't normally say thank you to the ABC but I have to say Australia is indebted to you on this instance".
Are these really questions that Shorten and Abbott are asking one another? What is going on?
Today many are asking if Bill Shorten has what it takes or if he is incompetent, following his odd-one-out stance on cutting pensions. Many believe if he isn't willing to cut down on unnecessary spending in sectors, then he can't operate as Prime Minister. Yes, he wants to be for the people, but the proposed changes are not hurting those who are doing it tough.
And now, Labor MPs are monitoring his sliding performance
Ad. Article continues below.
According to Fairfax, an unnamed Labor MP, said most MPs doubted Mr Shorten's pending royal commission appearance would throw up a specific "gotcha moment".
The question on everyone's lips in parliament today is, could this be death by a thousands cuts?
Monday's Fairfax Ipsos poll showed Labor still led the Coalition 53-47 in the two party-preferred vote, but Mr Shorten was just one point ahead of Mr Abbott as preferred prime minister, leading 42 per cent to 41 per cent. This time last year, the opposition leader was riding high at 47 per cent to Abbott's 40 per cent.
So this afternoon we want to know, firstly, does there need to be a massive shake up in politics to stop the ridiculous mud-slinging, or is this par for the course? And secondly, do you think Shorten has what it takes to go to the next election? Or will he be replaced?