What does solitary confinement do to a person's brain?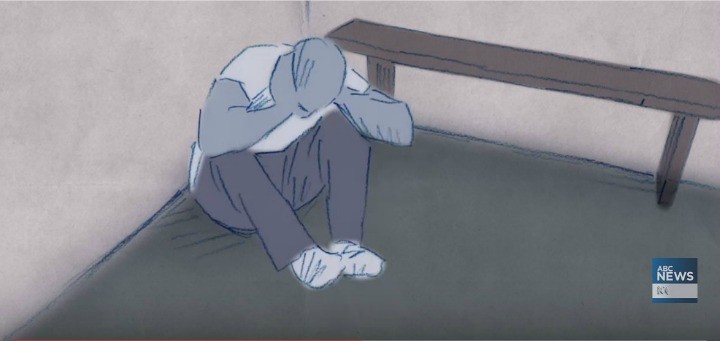 Recent news that an American man named Albert Woodfox is likely to be released from prison after spending a record 43 years in solitary confinement has reignited the discussion over the practice of isolation in jails.
The prisoner in question was serving time in the notoriously violent Louisiana State Penitentiary for armed robbery in 1972, when a prison guard was stabbed to death. Mr Woodfox and a fellow prisoner were accused of the murder, although four decades and two overturned convictions later, neither was found guilty of the crime. The prisoners claimed they were framed because of their membership in the Black Panther Party and their outspoken criticism of prison conditions. Both men were held in solitary confinement from 1972, although the other man was released just days before he died in 2013.
A third man held in solitary at the same jail has spoken out about the effects of extreme isolation. After being held in isolation for 28 years, Robert King was released in 2001. He told CNN he still gets disoriented and confused about where he is in the outside world.
Huda Akil, a neuroscientist at the University of Michigan, says this is likely due to extreme, prolonged depression. "People who are chronically depressed have a shrunken hippocampus, and that affects your ability to orient in space, in 3D".
Solitary confinement is used in Australian prisons to separate violent or dangerous prisoners, and as a punishment. Around five per cent of Australia's prison population is believed to be segregated, representing around 1500 prisoners.
Ad. Article continues below.
The protocol is similar to in the US: the prisoner is kept in a tiny cell, just a few metres wide and usually without windows, that contains a bed and a toilet. They spend up to 23 hours a day in the cell with the remaining hour spent is a cage that may or may not be outside. Sensory depravation is a feature of solitary, with no natural light or air.
"But it's actually the deprivation of human contact which is the most profound sensory deprivation,"says Human Right activist Charandev Singh who has nearly 20 years' experience investigating deaths in custody.
"Almost always visits are non-contact so they would be sitting behind glass. Even if you have a nurse or psychologist come to see you, often that assessment or consultation will happen through the trap of a cell door," he told News Limited.
Peter Scharff Smith, a senior researcher at the Danish Institute for Human Rights in Copenhagen says many studies have concluded that isolation is harmful on both a physiological and psychological level.
Physical impacts are related to lack of activity and also stress. Mr King said his eyesight started failing within a few months of being in isolation due to his world being shrunk to such short-distances.
Ad. Article continues below.
Depression, anxiety, panic and insomnia are common side effects of the boredom and lack of stimulus in solitary confinement. The lack of social stimulation is linked to anger, hatred, bitterness, boredom, stress, the loss of a sense of reality and suicidal thoughts, trouble sleeping, confusion, trouble concentrating, depression and hallucinations.
Ms Akil from the University of Michigan explains that the brain needs positive human interactions to stay healthy and that social interaction may activate growth factors in the brain, helping brain cells regrow.
Former NSW prisoner Brett Collins spoke to the ABC last year about his experience of solitary confinement in the "black cells" in Grafton and Long Bay jails in the 1970s. He estimates he spent half of his 10-year sentence for armed robbery and assault in isolation in cells with no lighting.
He said that after 10 days questions, paranoia and violent thoughts began, and he became fixated on doing damage to the guards. "That's not me," he said. "It's not in my nature; I'm a gentle person".
According to Mr Collins, it took a long time before he could "accept the proximity of people beside me" when he was eventually released.
Ad. Article continues below.
"In supermax prisons we're looking at men who are going into their second decade in solitary confinement in an unbroken way but often it is for week and months and years," says Mr Singh. "Very rarely is someone held in solitary confinement for just a few days at a time".
In Australia and the US, some people wind up in solitary for their own protection, for example juveniles in adult jails, or those with mental illness.
Four years ago, the United Nations Special Rapporteur on torture called for a worldwide ban on the practice of prolonged solitary confinement except in very exceptional circumstances and for as short a time as possible, with an absolute prohibition in the case of juveniles and people with mental disabilities.
Juan Mendez concluded that even 15 days in solitary confinement constituted torture or cruel, inhuman or degrading treatment or punishment, and 15 days is the limit after which irreversible harmful psychological effects can occur.
New York this week passed a bill banning solitary confinement for all inmates under the age of 21.
Tell us, do you think solitary confinement is a valid punishment today?