What Dick Van Dyke really thought of his on-screen wife Mary Tyler Moore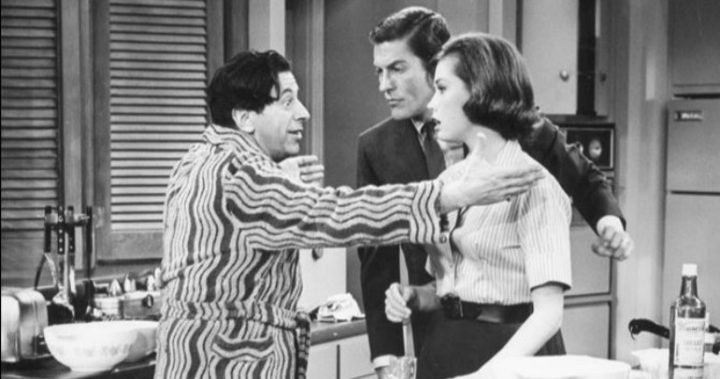 Considered one of televisions classics, The Dick Van Dyke Show centred on the life of Rob Petrie — a writer on the fictional 'Alan Brady Show'. Created by Carl Reiner, it starred Dick Van Dyke, while Mary Tyler Moore played his wife, Laura.
However, in a recent interview, Van Dyke reveals the iconic couple almost didn't happen as he was apprehensive about having someone as young as Moore play his wife.
"I said, 'She's a little young isn't she?' Twelve years," recalls Van Dyke, noting the age difference.
Yet Reiner said, "Nobody's going to know."
It's true… It appears no one ever questioned the age gap and from the first time Van Dyke and Moore locked lips on-screen that was it, they were together.
Ad. Article continues below.
The chemistry on-screen was just as powerful off it, and Van Dyke reveals he had one hell of a crush on Mary Tyler Moore.
Could things have been different if the two weren't already in other relationships? Reiner seemed to think so.
"They were really attracted to each other," he said.
Dick Van Dyke and Mary Tyler Moore were so in tune with one another that they almost didn't need a script to perform.
Ad. Article continues below.
"You could just tell us a scene and we could make it up," Van Dyke says. "She read me very well, and I read her timing very well, and it was just such a pleasure to work with her."
After 50 years 'off the air' United States network CBS recently broadcast two episodes of The Dick Van Dyke Show in colour. Episodes 'That's My Boy??' and 'Coast to Coast Big Mouth' aired back to back on Sunday, December 11.
"I discovered I had brown hair!" Van Dyke laughed. "Everybody thought I had black hair."
Were you a fan of The Dick Van Dyke Show? What did you think of the chemistry between Dick Van Dyke and Mary Tyler Moore? What was your favourite episode?