Weighing in on the "Abbott factor"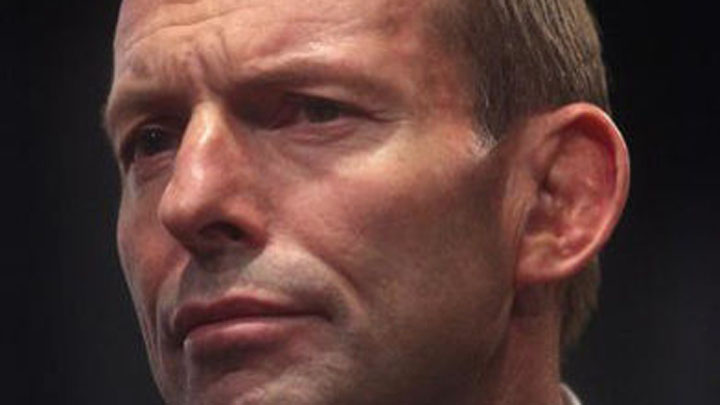 When we talk about or hear about Tony Abbott's performance as Prime Minister over the last year, there is one phrase we hear over and over again – "Broken promises". It's become a phrase that we, as Australians, almost associate immediately with our Prime Minister. In fact, if you Google the search term, "Broken promises" the second result is a website called Phony Tony Abbott and this result is followed by numerous news articles also alluding to the same thing. The "Abbott factor" has become a phrase in pop culture used to indicate a level of broken promises.
Recently, we stumbled across a website run by the ABC called Promise Tracker. And just like the name suggests, it measures the promises made by Tony Abbott and the Liberal party during the election and tracks whether they were broken or not. Quite frankly, for a man who's name is synonymous with broken promise, he is doing a lot better than we assumed.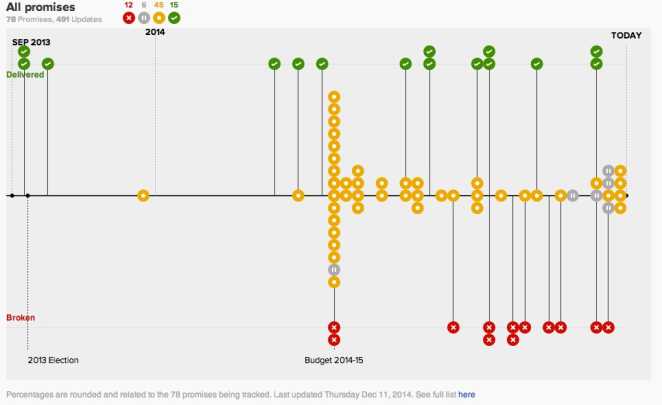 Out of the 78 promises made, 45 are in progress, being amended or debated over in the senate, six have been paused and progress delayed, 15 have been successfully kept and 12 have been broken.
Ad. Article continues below.
That's right, only 12 have been broken. This is a somewhat small number when we consider the backlash he has received for his conduct as Prime Minister. There were some major promises broken that are disappointing despite in some cases being necessary.
The promises broken include:
"No Medicare local closures" – These were closed and replaced with primary healthcare networks.
"Send a Customs vessel to the Southern Ocean to monitor whaling" – a plane was sent to monitor whaling instead.
"Repeal Section 18C of the Racial Discrimination Act" – No repeal was made.
"Delay superannuation increase by two years" – It has been delayed until 2021 instead.
"No unexpected adverse changes to superannuation" – They delayed the superannuation increase.
"Publish a draft amendment for constitutional recognition of Aboriginal people within 12 months" – there is not yet a draft amendment.
"Spend a week a year in an Indigenous community" – The Prime Minister returned after more than 12 months away in 2014.
"No-one who arrives illegally by boat will receive permanent residency" – This was changed in the Migration and Maritime Powers Legislation Amendment.
"All $100m-plus infrastructure projects to have cost-benefit analysis" – The Victorian government's 2014 Economic and Financial Update is released without this.
"No tax increases" – Proposed indexation of fuel tariff.
"No cuts to the SBS" – Cuts were announced as necessary budget saving methods.
"No cuts to the ABC" – Cuts were announced due to the changed economic circumstances since the budget.
There's a lot of things in there, but are they enough to demonise him as much as we have? While 15 important promises have been kept (please see below), there are so many that should be going forward but are held up for debate in the senate and through a level of ignorance, we choose to believe that these promises are also broken. The reality is that they're just sitting there going through debates.
Ad. Article continues below.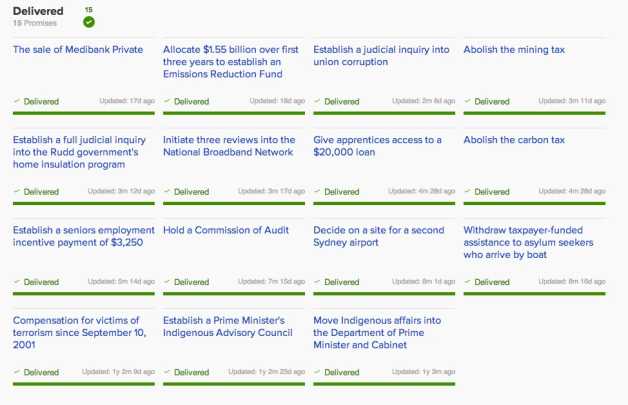 Australian politics have almost lost sight of caring for Australia. These days, it is a war of power. A friend once remarked that for the last ten years progress has simply been void because it is always the opposition sorely denying the government any success… Not because they don't genuinely believe these are good pieces of legislation that can help Australia, but because they don't want them to "win" in any capacity.
After reflecting I feel a bit sorry for "Phony Tony" as he is so commonly named. Because I don't think he deserves the treatment he has received. I know a lot of you will not agree and I do look forward to hearing why – I also understand that ideally a leader who breaks NO promises is the ultimate goal, but I really don't think we're going to find one in the group we have available right now.
 So what do you think, has Tony Abbott received the "Abbot factor" stereotype wrongly? Or does he deserve it? Share your thoughts in the comments below…