We need a Minister for Ageing, Mr Turnbull.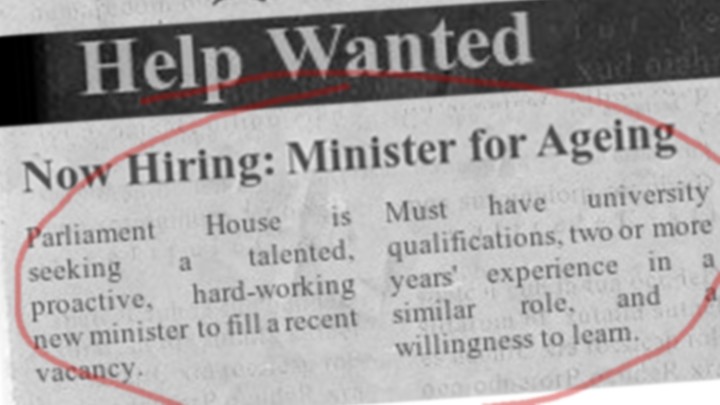 Abbott left us high and dry without a Minister for Ageing, but now Turnbull has the opportunity to show us that he believes ageing matters in this country.
We're living longer, we're the fastest growing demographic in the world, and yet thus far we have no had someone rallying for the issues that matter to us. We have unique opinions about this country, and needs that will affect not only us, but the generations after us.
Contrary to what some younger generations believe, we're in this for the long haul, and need to be heard. Senior Australians have lived through some of the worst economic times and the best, they've seen wars and they've seen triumphs, they've seen prime minister after prime minister. They're the foundation of this great country, yet for some reason even those in the highest seats continue to look down rather than up. We have so much to teach.
Chairman of Per Capita Longevity Forum, Everald Compton, highlighted the areas that need immediate attention: income, pensions, superannuation, retirement savings, mature age employment, skills training, tax, age-friendly housing, transport, technology, recreation, lifelong learning, intergenerational partnerships, volunteering, elder abuse, obesity, aged care, dementia and homelessness. It's a daunting list, and it needs someone who can take pride in looking after it. Someone who can really make a difference.
"Australia clearly has the capacity to release the enormous potential of millions of seniors who have been neglectfully pensioned off instead of the nation gainfully using their wisdom, loyalty and reliability to become the world's most modern and enlightened nation enjoying a high quality of sustainable prosperity", Compton wrote for the ABC.
Ad. Article continues below.
So we want to know today, who do you believe should become the Minister for Ageing? Who has what it takes to care for this diverse and growing portfolio?