We can now track pollies' flight expenses PLUS photo of Bronwyn in economy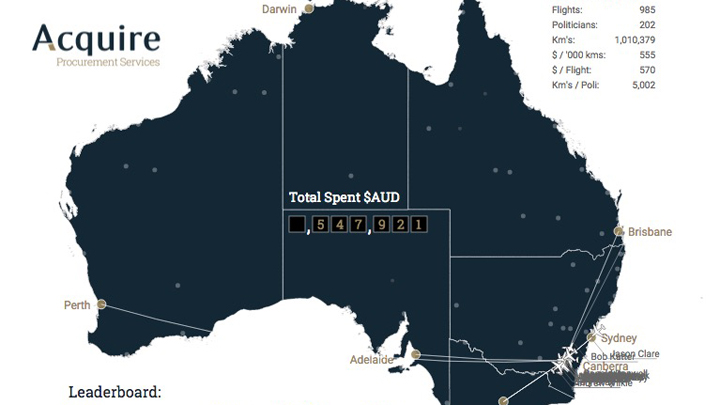 As taxpayers, you'd think we would be able to check and see how our money was being used, and luckily now we can when it comes to politicians and their penchant for expensive travel.
Acquire Procure have created an interactive data chart called Poli Flight where you can see exactly what is being spent, where and by who.
It is an interactive data visualisation of every Australian politician's domestic travel between July 1 and Dec 31, 2014 (the figures for 2015 aren't yet available).
The data can be sorted by politician, airport, date and dollar amount.
Ad. Article continues below.
"Yes, you can see how the politicians compete over time on how much money they are spending on flights," Acquire said – it's about $1 million per month.
To try to interactive map and see who is spending our hard earned money, click here.
Int he above timeframe, $5.9 million was spent on 10,000 domestic flights, by 235 politicians. The average flight cost was around $580.
Surprisingly, Bronwyn Bishop was not at the top for her expenses – it was WA senator Rachel Siewert who spent $77,000 in taxpayer funds over six months.
With that said, Bronwyn Bishop's most lavish journeys were documented to have occurred late last year so therefore are not included in the data.
On the subject of Bronny, the disgraced former Speaker has been snapped taking a cattle class flight to Canberra, a far cry from her chartered flights and helicopter flights.
It begs the question, is it only OK to have huge travel expenses when it's not coming out of your own pocket? It'd be interesting to know if she flew Tiger Airways or Qantas.
Here's the evidence:
Have you seen a celeb fly economy?! Bronny Bishop does (only when the chopper is unavailable) #KTM pic.twitter.com/9KsJdRtY1N

— Nova 1069 (@nova1069) August 14, 2015
Tell us, are you surprised to see Bronny in cattle class now that she has to pay? And what do you think of other politicians' travel costs? What can be done?