Waleed Aly calls for ban on everyday item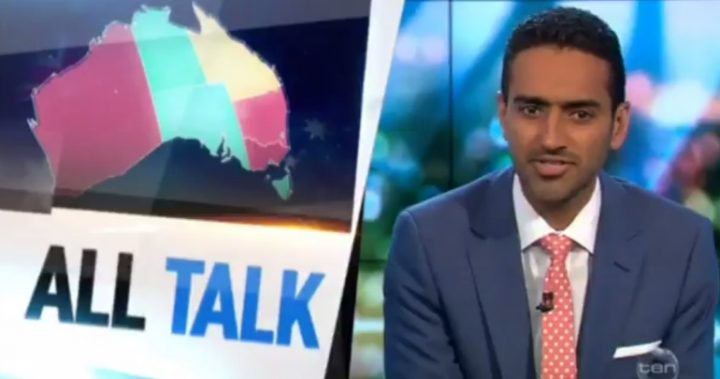 If you live in South Australia, the Northern Territory, Tasmania or the ACT, then you'd know there's a plastic bag in you state.
Queensland is set to be the next state to follow their lead.
But Western Australia, Victoria and New South Wales haven't got any plans to ban the plastic bag in place – and Waleed Aly is calling them to action.
In a six minute editorial piece on The Project last night, Waleed called on the premiers of the three states to "ban the bag" so that Australia would have a nation-wide plastic bag ban.
"It's estimated Australians use between four and six billion plastic bags annually," he said, outlining the case for the ban.
Ad. Article continues below.
"We use more than 10 million plastic bags, every day. And just since I've been speaking, Australians have dumped 7150 plastic bags into landfill."
As Waleed pointed out, the plastic bag is banned in a number of other countries including France, Italy, China and Kenya – and supermarkets such as Coles and Woolies have said they would comply with a ban.
While the premiers of New South Wales and Victoria told The Project they'd support the ban, the Premier of Western Australia said he'd let councils make the decision.
Waleed calls on the three Australians who can #BanTheBag. #TheProjectTV | Written by Waleed Aly and Tom Whitty (@twhittyer) pic.twitter.com/wkJDYVH5OK

— #TheProjectTV (@theprojecttv) April 19, 2017
Ad. Article continues below.
Waleed believes the Premiers won't pull the trigger because "they're scared of a possible backlash", something he believes is a misplaced fear.
"80% of South Australians, who have already been living with a plastic bag ban for eight years, strongly support the ban. 70% of Canberrans feel the same way. Same deal for 73% of Territorians," he said.
"So what I'm saying is, these guys want to ban plastic bags, they're even ready to ban plastic bags, they're just waiting for you to give them a push. And unless we give them a push, nothing will change, and you and I will keep using plastic bags. But we can change this. You can change this."
Shortly after the program, #banthebag was trending on social media – and a petition by The Project on Change.org received plenty of support.
What do you think? Do you agree with what Waleed had to say about banning plastic bags?