Virgin Australia gives the best gift to dogs everywhere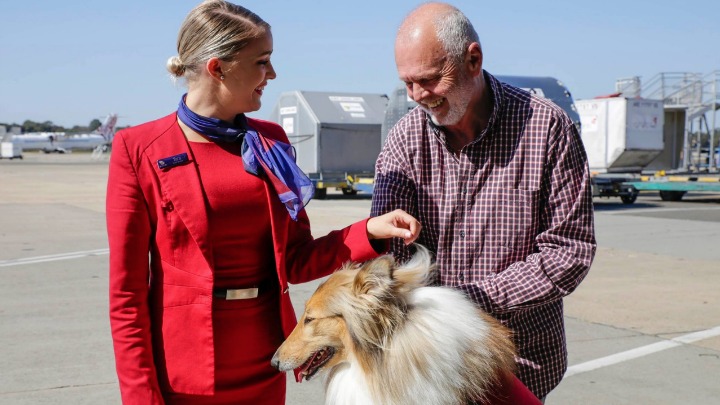 In what could be the happiest news of the whole week, Virgin Australia has announced a beautiful new campaign that will see them offering thousands of dogs across the country a chance at a happy home.
Every year hundreds of dogs are euthanized or left to live in shelters because they can't find a home in their area.
Now though, Virgin Australia says it will fly rescue dogs to their new homes across Australia for free.
This means that anyone in any city can rescue a dog in need of a loving home and have them flown to them without having to pay the hefty fees many can't afford.
The first lucky dog, Lallee, has already taken its free flight from Melbourne to Sydney, meeting up with new ecstatic owner Raymond Willmott.
Ad. Article continues below.
The airline shared the happy news on their Facebook page and the love quickly started to flood in with people applauding them for giving rescue dogs a second chance.
"Omg this is fabulous news! Imagine all the greyhounds in NSW that will need rehoming come next year when the industry is shut down. Now cost won't be a barrier to rehoming interstate," wrote Stephanie Turner.
"This is the best thing I've read for a long time. Well done virgin for putting kindness before greed," said Kylie McIvor.
Virgin Australia teamed up with a number of animal welfare groups for the venture, including PetRescue whose founding director Vicky Davy said it would "literally save the lives of thousands of pets. We often have pets who can't find homes in their own area, and being able to transport them to a new area will save their life. It opens up the whole country to find new homes and give the pets a second chance."
Ad. Article continues below.
How wonderful is it to see all rescue dogs given an opportunity like this?
Let's hope more big companies start putting their profits to good use like this!
Would you use this service if you wanted to adopt a dog? Does it make you happy to know rescue dogs are being given a chance like this?