Video suggests even Belle Gibson's book publisher thought she was lying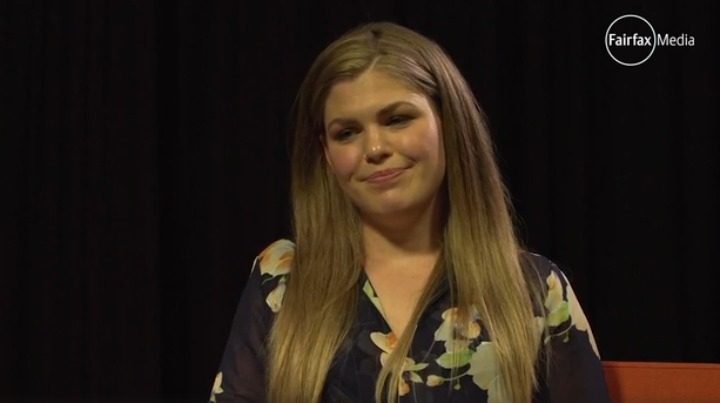 Can it get much worse than this?
A new video has emerged showing disgraced author and wellness blogger Belle Gibson rehearsing her answers during a media training session with her publisher Penguin.
Throughout the video, Belle is questioned by a woman from Penguin off camera who tries to help Belle get her story straight as she prepared to promote her book around the country.
"This is just for us … so that if you are sitting opposite a Good Weekend journalist who's asking you quite investigative questions … we want to rehearse some questions with you," a Penguin official says in the recording.
"Because what we suspect might happen now, is that because you are the success story of the moment … you know what journalists do, they want to start scratch, scratch, scratching away."
Ad. Article continues below.
"Well, they already are," a grimacing Ms Gibson says.
A senior Penguin staffer replies: "Exactly. And we're concerned about that."
While they're talking, Belle makes all sorts of wild claims about having brain cancer and goes into a lengthly and awkward discussion about the special "European treatment" she is using the get rid of her so-called cancer.
What's most alarming though, are the questions by the Penguin staff member who asks Belle about her wild claim that she had a stroke but didn't go to hospital, clearing indicating that something wasn't adding up.
Ad. Article continues below.
Later, one of the penguin staffers says the practice session is about "protecting yourself so the source of truth is you."
"And we're here to help you come to what you want to be saying about you, and your life, and your cancer, and your book, and your family, and all those things."
Penguin has since admitted it failed to fact-check Belle's claims and went ahead with the book and it's promotion without knowing the full story.
When Belle's lies were finally revealed the public outrage was enormous with people disgusted she had lied and taken money from her fans.
Those who have lived through cancer or know someone who has, know how difficult and harrowing it can be. Many have said that for her to pretend she knows what it's like to have to live cancer is the lowest of lows.
Thanks to this new footage though, further blame is being heaped on Penguin for failing to catch her lie before publishing.
Do you think Penguin should face further consequences for publishing and promoting Belle's book? How does the who Belle Gibson story make you feel?