Video catches schoolboy surprising shoppers with his amazing voice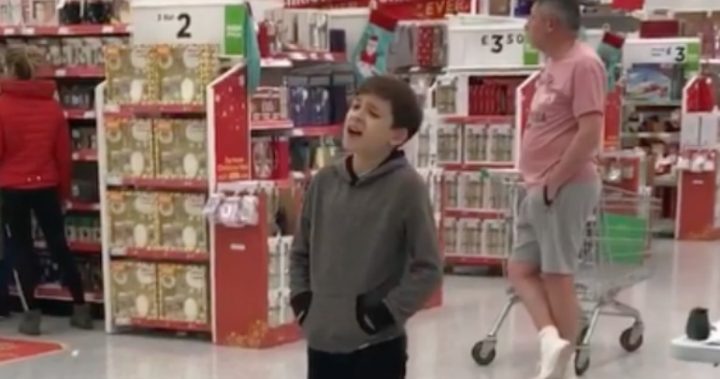 Who'd expect this voice to come out of such a small body?
A 10-year-old boy, Calum Courtney, has won a legion of fans after a Facebook video of him bursting into son in an English supermarket went viral.
And now he's attracted the attention of a music producer, who plans to work with the youngster on a charity single in January.
Calum has a mild form of autism, his mum Tupney told reporters, and singing is one of his favourite pastimes, particularly in front of a crowd, so he was happy to perform impromptu for shoppers as he helped his aunt Katy Rose collect money for the MIND mental health charity.
As passersby idled around, Calum stood in front of the aisles quietly before bursting into a cover of Smokey Robinson's 1960 hit song 'Who's Lovin' You'. His mum caught the performance on her mobile, and his aunt posted it on Facebook, where it's now been viewed well over a million times as well as shared more than 12,000 times.
Ad. Article continues below.
"Fund raising for Basildon MIND in ASDA this evening and I was joined by my sister Tupney Courtney and my nephews … Calum, who's only 10, was super brave and did a few songs to help raise money!" Katy explained in her post.
"Ollie held the bucket and wished everyone a Merry Christmas! They both did so well a lovely lady bought them both some choccies for their efforts."
Calum's mum said the family had been overwhelmed by the amount of interested in the video of Calum singing.
"Exciting phone calls have happened and who knows what is to become of my singing sensation," Tupney said in a follow-up Facebook post.
Ad. Article continues below.
"This week we are excited to help give out Christmas presents to those in need, feeling extremely grateful to be asked to help, boys are very excited to do good."
She explained to reporters at multiple media outlets that Calum's form of autism was "high functioning".
"For Calum this means blurred social boundaries, struggles with school and difficulties with friendships, but also that enables him to have no fear to get up and belt out a song," Tupney said, adding that the 10-year-old taught himself to play the drums while just a toddler, and that he'd previously performed at a charity ball in aid of Britain's National Autistic Society.
"We describe his autism to him as a superpower, it may take a little from other areas of life but it's given him the superpower of music."
Calum and his brother Ollie, meanwhile, posted a super-cute thank you for all the kind words and donations to MIND.
Do you know a youngster with an amazing voice? Are they as confident in front of a crowd as Calum?