Usain Bolt completed his third consecutive sprint double at the Olympic Games today with a time of 19.78sec, the same time he set in his semi-final.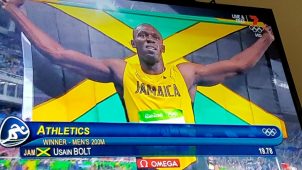 In what would have been the most watched Olympic event at this Olympics, the world watched as the fastest man alive proves what he was made of by posting his newest gold medal win to the Jamaican tally.
Here's a reminder on how Usain Bolt has completely rewritten sprinting history. He memorably broke Michael Johnson's 1996 200m WR in 2008, and then further refined that new fastest time by another 0.11 seconds a year later, in Berlin.
Ad. Article continues below.
He had spoken openly about trying to beat his 19.19 200m World Record, set in Berlin seven years ago. "I definitely think I can try for the world record, I definitely feel that," Bolt said yesterday. "I need to run efficiently and get into the straight and run the perfect race."
In the semi-finals, Bolt was forced to go faster than he normally would in the rounds, puffing out his chest to cross the line in 19.78sec, two hundredths of a second ahead of Andre de Grasse from Canada. He gave him a friendly wag of the finger, too, after de Grasse sped up over the final ten metres to record a Canadian national record.
Andre de Grasse won second place in the race, finishing at 20.02sec.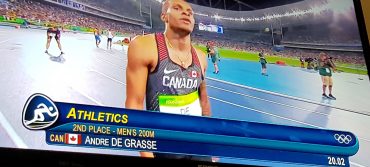 Ad. Article continues below.
Usain Bolt now has his eyes set on being part of the Jamaican team and winning the 4x100m relay – and become the only man to win the triple-triple – three golds in three consecutive games.
What do you think about Usain Bolt's latest win? Do you think he could get a triple-triple of gold medals?