US tennis player screams in agony after horrific Wimbledon injury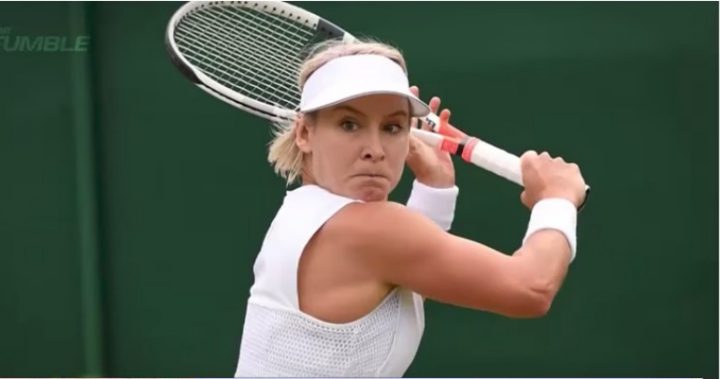 Sporting and injuries go hand in hand, but tennis is one sport with it's clean dress codes and elite spectators, where we are used to seeing generally milder injuries like sprains and strains. It is not usually associated with the gruesome and horrific injuries we might expect to see on the football or rugby field. 
That all changed at Wimbledon yesterday when American player Bethanie Mattek-Sands collapsed mid-match as she was playing against Romania's Sorana Cirstea, appearing to slip as she approached the net at the beginning of the third set. 
The following scene was painful just to watch, as the player clutched her badly injured right knee whilst screaming in agony "help me!"
She was treated on court with oxygen and a (presumably) pain injection, before being stretchered out, still screaming "it hurts, it hurts so much" as she was taken away, while stunned onlookers watched.
Her opponent Cirstea spoke about how long it felt like it took for help to arrive, and how "uncomfortable" and "useless" she felt.
Ad. Article continues below.
"I think everyone froze. No-one was having any reaction," she said.
"I called for help, but no-one was coming.
"I think for a long time it was me, her husband and my physio. My physio jumped and he was there. I was trying but, of course, I felt useless.
"When she was screaming so loud, it was a very uncomfortable moment. I felt a little bit useless. I wish I could have done more.
"It felt, like, so long. I don't know, there are sports where you see something's happening, you see straight away the help. Like I know football, boxing, all the others, it's straightaway.
Ad. Article continues below.
Wimbledon responded in a Tweet saying that the response time was within one minute. 
AELTC statement (2/3): The player was kept on court while pain relief was given

— Wimbledon (@Wimbledon) July 6, 2017
AELTC statement (3/3): The player was then transferred directly to an ambulance and taken under emergency conditions to a hospital

— Wimbledon (@Wimbledon) July 6, 2017
Ad. Article continues below.
If you're game, the video of the incident is below. But be warned, it's quite shocking. 
Is this the worst injury you've ever seen in a game of tennis?