US tennis fans slam Nick Kyrgios for 'doing a Tomic'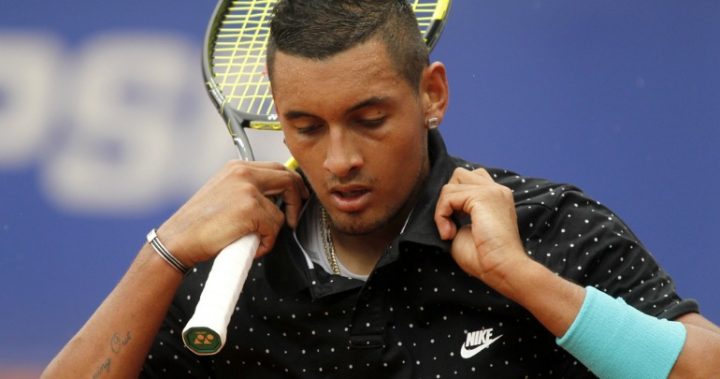 Troubled Aussie tennis star Nick Kyrgios was losing to his opponent when he retired from the Washington Open. Kyrgios claimed to have a shoulder injury, but none of the fans were having it.
The 22-year-old was booed off court, but he managed not to display his trademark temper as he strode towards the change rooms.
Kyrgios gets booed by some fans as he exits the court after retiring with an injury pic.twitter.com/mYILEE4YD4

— Kelyn Soong (@KelynSoong) August 3, 2017
Kyrgios retired from his first-round match at Wimbledon earlier this year due to a chronic hip injury but said the shoulder trouble was new.  
Ad. Article continues below.
"My shoulder kind of just came on today, I hadn't been feeling it," Kyrgios says in an article from The Washington Post.  
Turbulent as Kyrgios's career has been, he doesn't seem interested in being tarred by the same brush as fellow Aussie Bernard Tomic, who made headlines last month after admitting he lacked motivation and was only playing tennis for the pay packet.
Kyrgios has also made mention of mental problems, though he maintains that "it's not motivation, just off-court issues".
Despite Kyrgios's obvious discomfort, the crowd was reluctant to believe his reasoning, taking to Twitter to slam him for a "lack of effort" and saying that his mention of a mental problem is "conning the public".
#Kyrgios should get a "lack of effort" fine tonight ..if he doesn't want to play get off the court and stop wasting people's time! #atp500

— Travis (@LFordTravis) August 3, 2017
Ad. Article continues below.
#kyrgios.the bloke is a joke.mental problem.conning the public.?

— Mikeh7 (@Mikeh60882356) August 3, 2017
Some are also questioning whether Kyrgios is taking physical rehab seriously after he was photographed in Australia playing a game of basketball in late July.
"Looks like playing basketball during injury layoff has caught up with him," one person writes in a Twitter post.
Ad. Article continues below.
Nick #Kyrgios retires in #ATPWashington looks like playing basketball during injury layoff has caught up with him ??? #PoorConditioning

— Val Febbo (@VFebbo96) August 3, 2017
"My hip has been fine," Kyrgios says. "I've been very cautious with it; I haven't been training enough, at all, to play a tournament like this.
"I just wanted to see how it goes, but obviously I'm far from ready … I don't think it's really worth playing through here and jeopardising my US Open."
With the US Open starting on August 29, Kyrgios will be hard-pressed to get back into peak physical condition.  
Do you think it was fair for Kyrgios to be booed off the court?