Unrecognisable Kathy Griffin shocks fans with new look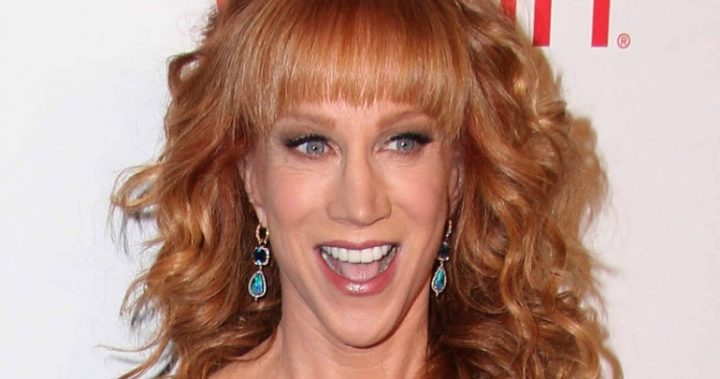 Kathy Griffin is an actress and comedian, well known for her head of luscious red locks. 
Alas, fans have been shocked to see images of her circulating the web over the past 24 hours with a completely bald head!
In solidarity with her sister, who is going through chemo, @kathygriffin shaved her head. Donate to @AmericanCancer: https://t.co/NazIbJ9FQ2 pic.twitter.com/UXr9YH1LYc

— Yashar Ali (@yashar) July 31, 2017
In one of the pictures, Griffin is sitting beside her mum, Maggie Griffin, who has a hand on her bald head and the other over her mouth in mock-surprise at her daughter's new look, while in the other Griffin is rubbing her own nude head and grinning widely in an outdoors shot. 
Ad. Article continues below.
Read more: Top comic apologises for tasteless Trump 'execution' photo
Although the 56-year-old star hasn't spoken publicly about the reasons behind the photo, it is being widely reported that she shaved her head in solidarity with her sister who is battling cancer. 
According to Entertainment Tonight, the drastic change happened around a week ago, as her sister, Joyce, undergoes chemotherapy for cancer.
Griffin has been laying low since a controversial incident back in May where she was put on blast for a video in which she was shown holding a fake severed head is the form of President Donald Trump.
Griffin initially Tweeted the image saying, "I caption this 'there was blood coming out of his eyes, blood coming out of his…wherever,'" referring to Trump's comments after a debate co-moderated by then-Fox News anchor Megyn Kelly pre-election.
Ad. Article continues below.
She was later forced to apologise for the video, which people from both sides of politics criticised as tasteless.
"I sincerely apologise," Griffin said after the incident. 
"I'm a comic. I crossed the line. I move the line and then I cross it. I went way too far. The image is too disturbing. I understand how it offends people, it wasn't funny, I get it.
"I ask your forgiveness. Taking down the image, gonna ask the photographer to take down the image and I beg for your forgiveness. I went too far, I made a mistake and I was wrong."
No doubt she is hoping this latest media attention will be more positive than the severed head fiasco!
Would you ever shave your head?