Two strong hearts join forces for your radio listening pleasure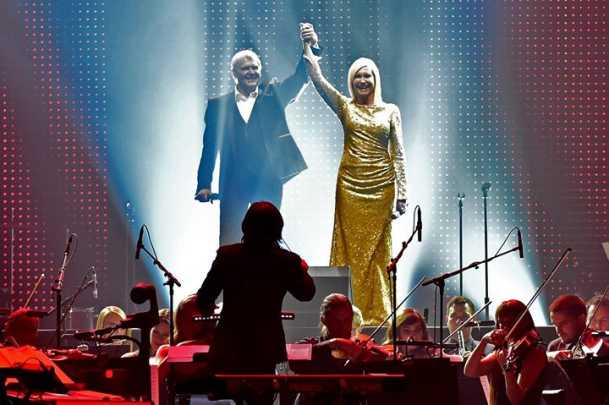 You know that John Farnham and Olivia Newton-John are pretty good friends. The two have collaborated on a number of projects, including their brand new album Friends for Christmas, and now they are set to host their own radio show on SmoothFM.
You'll be wanting to tune your dials — that's if radios still have dials — to the digital station on Sunday, December 18 and Sunday, December 25 (yup! Christmas day) to hear Farnsy and Newton-John share in the Christmas cheer.
"Having two Australian icons join forcs on SmoothFM is incredible," Peter Clay, the radio station's program director, said in a statement.
"The chemistry between John and Olivia will be something special for our listeners and we can't wait for them to play some of their favourite songs and share their stories."
Ad. Article continues below.
It'll be the first time Farnsy has hosted a show on SmoothFM, but he's pretty excited about the opportunity to connect directly with you.
"When we are working and doing our shows, we never really get to connect with the audience on a one-on-one basis. So it's nice to be able to talk to people and hear what they think," Farnham said.
They pair will also give you a sneak peek into their latest album, just in case Santa didn't drop a copy in your stocking, which Newton-John is very excited about.
Latest Xmas Album Reviews: John Farnham & Olivia Newton John https://t.co/WpxV6HfzZM @newscomauHQ #FriendsForChristmas pic.twitter.com/hcz9wWOy66

— Olivia Newton-John (@olivianjnews) December 9, 2016
Ad. Article continues below.
"I think it's a perfect day for us to be on-air because John Farnham and I have recorded this very beautiful Christmas record and we hope that people are getting to hear the tracks and have a wonderful Christmas Day," she said.
How can you hear them?
Tune in to 95.3 SmoothFM Sydney, 91.5 SmoothFM Melbourne, and SmoothFM DAB+ between 4pm and 5pm Sunday, December 18 and between 1pm and 3pm Sunday, December 25.
Do you like John Farnham and Olivia Newton-John? What is your favourite song?