TV host takes on controversial call to arms Q&A questioner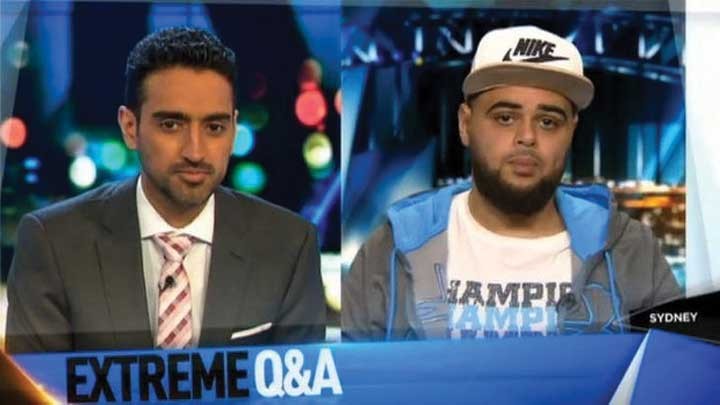 After the social media storm that has brewed following Q&A on Monday night, The Project organised an interview with Zaky Mallah, the man who said, 'The Liberals have just justified to many Australian Muslims in the community tonight to leave and go to Syria and join ISIL because of ministers like him'.
They weren't looking for him to reiterate what he had said, but to acknowledge that he had confused viewers – this was the first person to be arrested under Australia's new anti-terrorism act in 2003 and had been a vocal activist against people joining ISIS… until Monday night (or so it seemed).
On last night's Project program, host Waleed Aly asked Zaky Mallah to explain why he said Muslims have a reason to travel to Syria to join IS. Aly said it was irresponsible and Mallah said, "I've been on your program before and I've made it very clear that anyone who wants to go and travel to Syria or to Iraq to join ISIS, don't go.
"It's an organisation that has hijacked Islam. It's an organisation that has hijacked the jihad. I don't support ISIS and I don't support anyone leaving Australia and their families to head overseas and join this group".
So why did he said those things on Q&A?
Ad. Article continues below.
"I don't feel like you're taking responsibility for this," Aly said.
"You were asked a question about what you said and your response was to talk about how bad the government was. The inflammation in this came from you. It came from what you said," Aly said.
Mallah again blamed the government on his words but then conceded perhaps that he had used a tone that was a bit too harsh.
And now Zaky Mallah has written an article for The Guardian, where he says he stands by everything he said.
"The so-called Islamic State would be extremely happy to hear what Steve Ciobo had to say on Q&A. It feeds into their recruitment propaganda", he wrote.
Ad. Article continues below.
"After last night, many are accusing me of supporting Isis. For the record: I am not a supporter of Isis. I hate Isis. I was just making the point that Ciobo's comments play into the justification many Muslims feel for joining Isis. When a member of the government says that Muslims accused of terrorism can have their citizenship stripped without a judicial process, it is dangerous", Mallah explained.
Controversially, Mallah finished by said, "I [made] it proudly and would say it again. The Abbott government has no one to blame but themselves for the new recruits that Isis is attracting here in Australia".
What do you think? Do you think the ABC should have allowed him on the show? Even though he's not a trained media person, do you think he, or anyone, should be allowed to express views without any thought of public perception and reaction? Do you agree with Alex Hawke's call to take Q&A off the air? Let us know!