Turn the cans around for Australian-grown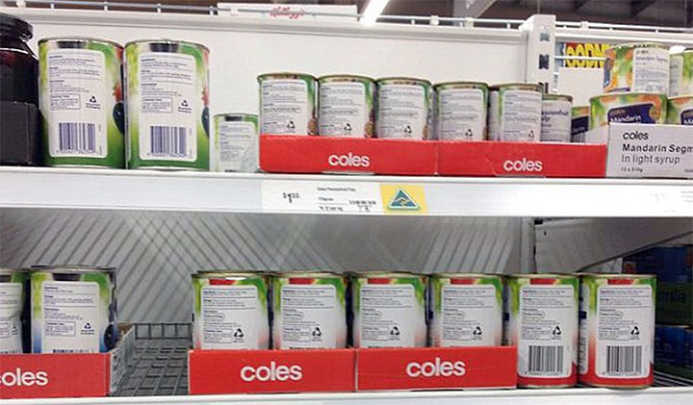 A Melbourne woman has kicked off a campaign to support Australian growers in our supermarkets by calling on people who care about buying Australian produce to "flip it and reverse it", turning cans around so people can see easily where the product they are looking at comes from.
It's a simple yet powerful action, which shows a mild and annoying protest to supermarkets may just help people take the second thought about where their product comes from.
It started when she went to the supermarket for smoked oysters but couldn't find any Australian-made produce of the item.
Last week, Ms Joyce posted a picture of a supermarket shelf of cans she had turned around, saying she had done this often in the last few months.  Since, the picture and her story has gone viral online, reaching tens of thousands of people.
She hopes the movement catches on and has set up a Facebook page to support it.
Ad. Article continues below.
In the Daily Mail she is quoted as saying "It's a harmless and super annoying way to protest and hopefully gets the message across.  I just wanted to put this out there nd everyone can take over on their own," she said.
Australians have been much more sensitive to international food in the country since the Nannas Berries incident where widespread sale of China-sourced contaminated frozen berries caused people to think twice about where their food comes from and how it is produced.
Her Facebook page does however show another side to this crusade.  There are plenty of annoyed people who are happy to buy cheaper food without concern for Australian Farmers it seems, and a few who feel the movement is just making more work for supermarket workers.
Share your thoughts today.  Do you buy Australian?  Would you join in this silent protest against our supermarkets and the quantum of internationally sourced food items on our shelves?  Or are you happy to get the best cost savings possible without regard for the source of your food?
Further information is available at the Flip it and Reverse it Facebook Page.