Trump 'weighed in' on son's Russia comments, White House confirms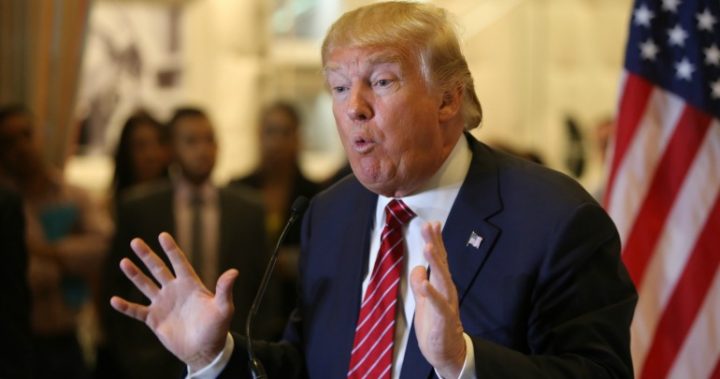 Even "high-quality" people need help from their fathers sometimes, and White House press secretary Sarah Sanders just confirmed that President Trump did in fact help formulate his son's response to allegations about his meeting with a Russian lawyer. 
Trump Jr issued a statement saying that the meeting was "primarily about Russia's adoption policies", but it's now being reported by The Washington Post that this statement was dictated by the president, and the White House is trying to put a positive spin on it. 
"The statement that Don Jr issued is true," Sanderson said in a press conference. "There's no inaccuracy in the statement.
"The president weighed in as any father would based on the limited information that he had." 
Read more: Donald Trump Jr's emails could be key to dad's undoing 
Ad. Article continues below.
Sanderson described the issue as "of no consequence", since it was "disclosed to the proper parties".
"He certainly didn't dictate but, you know, he – like I said, he weighed in, offered suggestion like any father would do," Sanderson said.
The president has so far remained quiet about the issue on social media, but considering his most recent tweet it might not be long before the people are treated to some more truth from the president. 
Only the Fake News Media and Trump enemies want me to stop using Social Media (110 million people). Only way for me to get the truth out!

— Donald J. Trump (@realDonaldTrump) August 1, 2017
Ad. Article continues below.
"Only the Fake News Media and Trump enemies want me to stop using Social Media (11o million people). Only way for me to get the truth out!" the president tweeted on August 1. 
The Washington Post cited unnamed sources from the White House in its damning article, and since there already seems to be at least some truth to the allegations, people are starting to wonder whether the fatherly suggestions are a smokescreen like the one Trump Jr used. 
News of the meeting came to light last month, when The New York Times published an article about it and Trump Jr scrambled to release the emails and prove his innocence. 
Rob Goldstone, who helped to set up the meeting with the Russian lawyer, reportedly had information about Hillary Clinton's involvement with Russia. 
Read more: Shock as yet another Trump staffer is sent packing
Ad. Article continues below.
After initially trying to dodge a bullet with the claims about Russia's adoption policy, Trump Jr admitted that the meeting had in fact been about getting information to discredit Clinton even though the meeting "went nowhere". 
Obviously I'm the first person on a campaign to ever take a meeting to hear info about an opponent… went nowhere but had to listen. https://t.co/ccUjL1KDEa

— Donald Trump Jr. (@DonaldJTrumpJr) July 10, 2017
What do you think of this statement from the White House? Did the president cross a line?