Trump warns our future is at risk because of two countries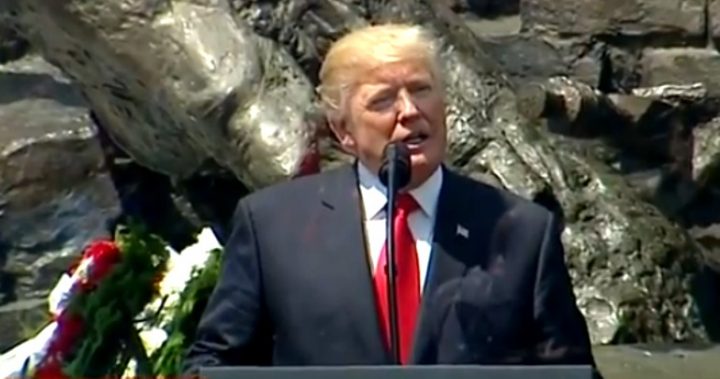 Donald Trump has warned the future of the West is at risk, hitting out at both Russia and North Korea in the process.
His comments could have even been taken as a threat to North Korea.
"It's a shame they're behaving this way — they're behaving in a very, very dangerous manner and something will have to be done about it," Donald Trump said, hinting at "some pretty severe things" available to him if the need arose. "That doesn't mean we are going to do it. I don't draw red lines."
His comments were made while in Poland, on the first leg of a trip to Europe, ahead of the G20, the annual summit of global leaders, and at a news conference with Polish president Andrzej Duda, obviously a further reaction to North Korea's recent missile launch. 
Ad. Article continues below.
"The defence of the West ultimately rests not only on means but also on the will of its people to prevail," Trump said. "The fundamental question of our time is whether the West has the will to survive."
Trump is due to face Russian president Vladimir Putin at the G20, but he still sent him a message ahead of time. 
"We urge Russia to cease its destabilising activities in Ukraine and elsewhere, and its support for hostile regimes — including Syria and Iran — and to instead join the community of responsible nations in our fight against common enemies and in defence of civilisation itself."
Trump later took to Twitter to confirm his statements, while protesters were hitting the streets in Hamburg, clashing with police over the G20. It is already turning into a war zone with people throwing bottles an stones resulting in injuries, and damage to property, including a car being set alight. 
THE WEST WILL NEVER BE BROKEN. Our values will PREVAIL. Our people will THRIVE and our civilization will TRIUMPH! pic.twitter.com/sozuVgdp5T

— Donald J. Trump (@realDonaldTrump) July 6, 2017
What do you think? Are things already getting out of control?