Trump, Clinton trade rare compliments during fiery US presidential debate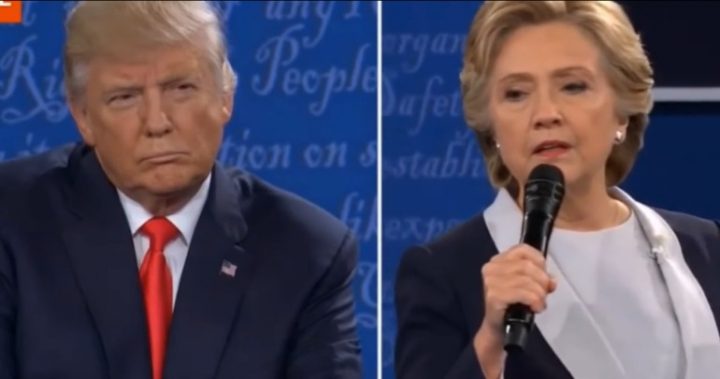 If you missed the US presidential debate, you missed a fiery debate full of allegations and interruptions.
But it was the last question that had both leaders thinking.
An audience member asked Donald Trump and Hillary Clinton whether either of them could name a positive thing they respected about each other.
Clinton was the first to answer, choosing to focus her answer on Trump's children.
"I respect his children," she said.
Ad. Article continues below.
"His children are able and devoted and I think that says a lot about Donald. I don't agree with nearly anything else he says or does but I do respect that.
"I think that is something that as a mother and a grandmother is very important to me."
You might be wondering what Trump had to say about his opponent?
Well, he complimented Clinton as "a fighter".
"I will say this about Hillary: she does not quit, she does not give up," he said.
Ad. Article continues below.
"I respect that. I tell it like it is. She is a fighter.
"I disagree with much of what she is fighting for, I do disagree with her judgement in many cases but she does fight hard and she does not quit and she does not give up."
If you missed the debate, that was about as positive as things got.
Ad. Article continues below.
As you might have expected, the debate was dominated by Trump's comments about women and Clinton's email scandal.
Moderator Anderson Cooper asked Trump about his comments on women, including his comment about grabbing women "by the p***y".
Ad. Article continues below.
"We received a lot of question online, Mr Trump, about the tape released on Friday. You call that what you said at locker room banter. You describe kissing women without consent and grabbing their genitals. That is sexual assault. You bragged that you sexually assaulted women," he asked.
As you may have expected, Trump described the comments as "locker room banter" and once again apologised for them.
"I have great respect for women," he said.
"Nobody has more respect than I do. But, frankly you hear these things. As I said. And I was embarrassed by it but I have tremendous respect for women."
Ad. Article continues below.
He then went on to talk about ISIS in his answer.
Clinton used the question to argue that Trump was "not fit to be commander-in-chief".
"What we all saw and heard on Friday was Donald talking about women, what he thinks about women, what he does to women and he has said that the video does not represent who he is," she said.
"But I think it's clear to anyone who heard it that it represents exactly who he is. We have seen this throughout the campaign.
"We have seen him insult women. We have seen him rate women. On their appearance the – rate women we have seen him rate women on their appearance. We saw him after the first debate spend nearly a week denigrating a former Miss universe.
"In the harshest most personal terms. So, yes, this is who Donald Trump is."
Ad. Article continues below.
And then it turned to Bill Clinton.
You might remember before the debate seeing Trump at a press conference with women who have accused the former president of sexual assault.
Ad. Article continues below.
During the debate, Trump said Bill Clinton was abusive to women and claimed his opponent also attacked the same.
"If you look at Bill Clinton, far worse – mine are words – his were action. What he has done to women, there has never been anybody in the history of politics in this nation that has been so abusive to women," he said.
"So don't tell me about words. I am absolutely, I apologise for those words. But it is things that people say, but what resident Clinton did, he was impeached, he lost his licence to practise law, he had to pay an $850,000 fine to one of the women, Paula Jones, who is also here tonight.
"And I will tell you, that when Hillary brings up that, and talked about words that I said a 11 years ago, I think it is disgraceful, and I think she should be ashamed of herself, if you want to know the truth."
There was also an awkward moment when Trump admitted that he disagreed with his vice-presidential running mate Mike Pence about Syria.
"I want to remind you what you're running mate said. He said provocations by Russia need to be met by American strength and that if Russia continues to be involved in airstrikes along with the Syrian government forces, the United States of America should be prepared to use military force to strike the military targets of the Assad regime," the moderator said.
Trump replied: "He and I have not spoken and I disagree. I disagree. I think we need to knock out ISIS."
Then there was the moment during talk about Clinton's email scandal that had a round of applause for Trump from the audience.
Ad. Article continues below.
"You should be put in jail, let alone after getting a subpoenaed from the United States," he said.
What did you think of the presidential debate? Who do you think "won"?