Trump and Turnbull use private meeting to talk war and peace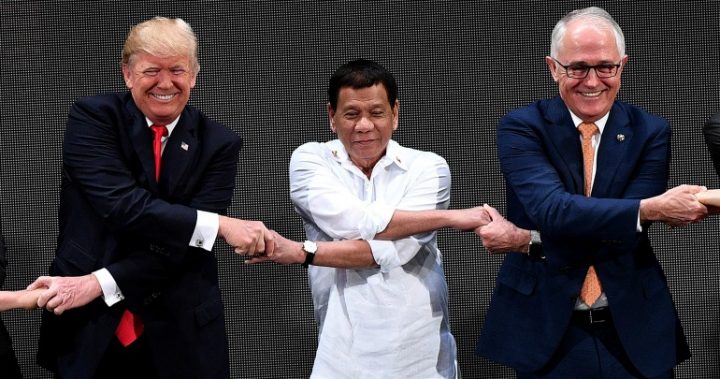 Australian Prime Minister Malcolm Turnbull has had a half-hour rendezvous with United States President Donald Trump, at his presidential hotel suite in Manila.
The meeting took place on the last evening of Trump's six day Asia tour.
Both leaders have been in the Philippines capital since Sunday for the East Asia summit which concludes on Thursday.
Turnbull and Trump met without officials in the room, for more than 30 minutes, to discuss trade and regional security.
Read more: One year of President Trump: How do you feel?
Ad. Article continues below.
The Daily Telegraph reports that Trump told Turnbull that a United States-led military attack on North Korea is a live option on the table to stop brutal dictator Kim Jong-un's threat of nuclear war. The report says Turnbull agreed,that when facing such a grave threat of nuclear war, it's prudent to keep all ­options, including launching a military attack, on the table. They also reported he turned Trump to find a peaceful solution, to avoid a major conflict that could rock the peace and stability of the region.
Earlier reports said Trump had cancelled a dinner the pair had been scheduled for. Instead they had a three-way chat with Japan's Prime Minister Shinzo Abe.
There was also another odd handshake episode, during a traditional cross-armed group handshake. While it seems both Turnbull and Trump work out where to put their hands, the Russian PM skips the idea altogether. 
Trump's awkward handshake moment in Manilahttps://t.co/V1BiAiQKjX pic.twitter.com/Y8kB6truMB

— euronews (@euronews) November 13, 2017
Ad. Article continues below.
The world is still waiting to hear what Trump's news is, after hinting about a major announcement on trade, which will be revealed on Wednesday.
He hinted about it again during his meeting with Turnbull and Abe. 
"It will be a very complete statement as to trade, as to North Korea as to a lot of other things," Trump said.
Do you think there is a peaceful option when it comes to North Korea?