Trending Refugee Mario video makes plight of refugee look like a game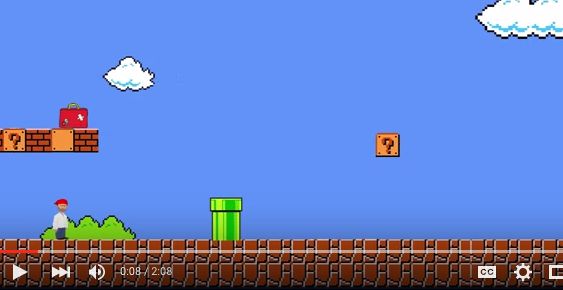 This video is trending today across the world.  It's a look at the plight of the refugee if it were a Super Mario game.
Crudely the video takes a look at what it would be like as a Syrian crossing Europe to get out of harm's way.  The character, which is being labelled "Refugee Mario" takes his money and pays guards before losinghis first life as he boards an ocean crossing.  In his second attempt he boards and crosses safely before having to climb fences, avoid guards and get past other obstacles that occasionally take other lives away.  Eventually he comes to ground in Hungary
According to the BBC today, the video was made by a 29 year old Syrian man based in Istanbul, Turkey.  He told the BBC how he came up with the idea. "A lot of my friends have fled for Europe. From talking to them I built a clear idea of what they went through and the life threatening risks they took".
"Five months ago my best friend drowned in the sea while travelling from Ismir (Turkey) to Greece. The engine on the boat exploded. That's when I got the idea for the video."
"It needed to be a simple and clear idea which would work irrespective of language. I used Super Mario because it's famous all over the world. It's like music – a universal language," he said.
Ad. Article continues below.
The video has been picked up and is a talking topic today online.  What do you think of showing the plight this way?