Tragic deaths of mother, 78, and daughters shocks community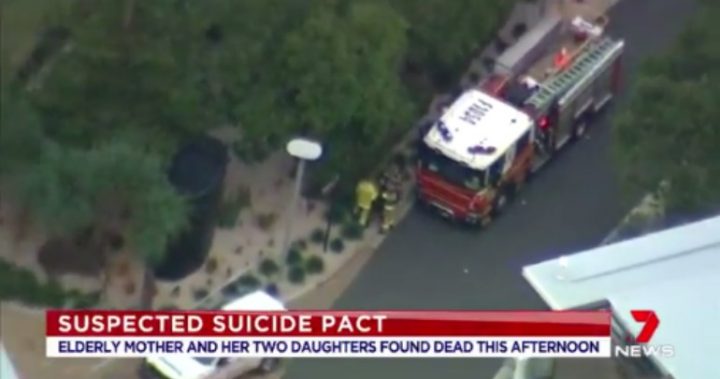 A 78-year-old woman and her two daughters in their early 50s have been found dead in what's believed to be a suicide pact, police have said.
Newspapers reported that the woman cared for one of her daughters, who was disabled, in their luxury home in the gated community of Ephraim Island on the Gold Coast. The other daughter and her partner recently bought a home in the same community, where homes cost millions of dollars.
The deaths were heavily covered by local media last night, with police initially calling the event "suspicious" but later saying that it was an "apparent suicide pact".
The bodies were found by the daughter's partner, who police said "wasn't aware that this was culminating today, but he wasn't surprised that it has happened". 
Police told newspapers that all three women had died in the same manner, and that the trio all had medical issues.
Ad. Article continues below.
Local residents said they were shocked and saddened by the deaths in the quiet area. 
The case comes as the Gold Coast was already surprised by the unexpected charges laid against three people yesterday in a 20-year-old cold case. Police charged Neil Pentland with murder, another man with being an accessory after the fact, and a woman with making false statements, over the killing of businessman Phillip Carlyle in 1997.
The murder had long baffled police as Carlyle was a church-going community man with no known enemies, and there were no signs of a break-in or theft at the scene. Pentland was Carlyle's business partner at the time. 
BREAKING: Police treating the deaths of 3 woman on the Gold Coast as suspicious but investigating if it was a suicide pact. @KrystalENews pic.twitter.com/KOo3woyOTd

— 7 News Queensland (@7NewsQueensland) June 27, 2017
If you need help, call Lifeline on 13 11 14.