Top Gun star Val Kilmer breaks silence over health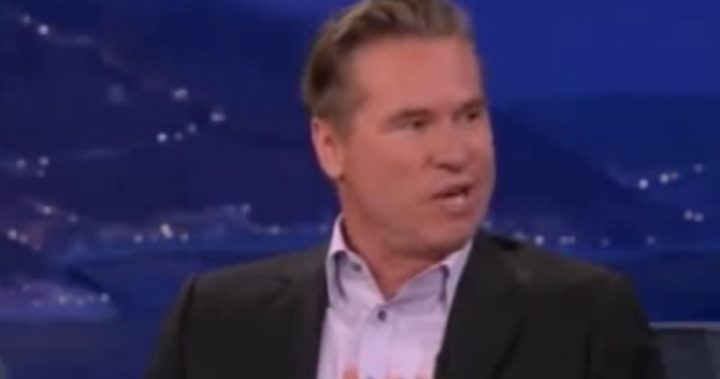 If you loved the movie Top Gun, then you'll remember Val Kilmer who played Lt Tom Kazanski.
The 56-year-old actor landed himself in the headlines last week, after actor Michael Douglas made comments about his health.
Douglas, who starred alongside Kilmer in the film The Ghost and the Darkness, told an audience at a Q&A session in London that things "didn't look too good" for the actor.
"Val was a wonderful guy who is dealing with exactly what I had, and things don't look too good for him," he said.
"My prayers are with him. That's why you haven't heard too much from Val lately."
Ad. Article continues below.
You might not remember, by Douglas battled with oral cancer in 2013, which is why his comments made people start speculating the Kilmer also had cancer.
So, is it true?
Well, Kilmer has come out on social media, describing Douglas as 'misinformed' .
"I love Michael Douglas but he is misinformed," he wrote on Facebook.
"The last time I spoke to him was almost two years ago, when I asked him for a referral for a specialist to get a diagnosis for a lump in my throat."
Ad. Article continues below.
The actor revealed he still has a swollen tongue and was "rehabbing steadily".
"Some fans have mistakenly thought my silence about my personal issues meant that somehow I wasn't being responsible to my health, because of my reliance on prayer and Love, " he wrote.
"Nothing could be further from the truth. Altho I am very grateful for all the support from around the world, when people found out I had a physical challenge.
"I hope this puts to rest any further concerns about my health by publications that have no respect for the truth. Whatever led Michael Douglas to speculate about my health, he's a loving and devoted friend to a privileged group of talent people around the world, and I'm sure he meant no harm."
What do you think? Was it wrong of Michael Douglas to say anything about Val Kilmer's health?