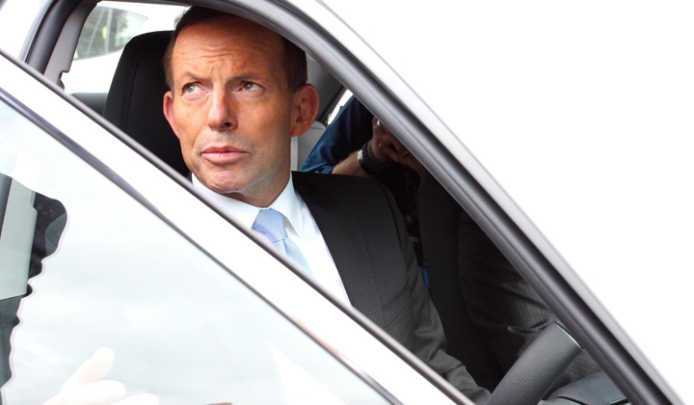 Like any high-profile leader, there comes a time when you need more protection, and that time has come for Tony Abbott.
It has been revealed today that Tony's new armoured BMW is worth at least $500,000 and will escort the Prime Minister to his daily engagements, and was seen by the public yesterday for the Prime Minister's XI cricket match in Canberra.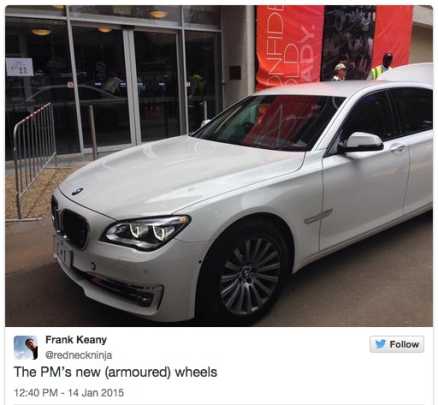 At a time when terrorism is a constant threat, Mr Abbott has decided it was high time to purchase not just one armoured car, but nine – with a whopping cost of $6.3 million. Is this really the best way of spending tax payers' money? Doesn't Tony want to reign in spending and cut costs?
The fleet will be spread across the country so each car can escort the PM in style and security wherever he may be. He's even been kind enough to offer the use of his new babies to VIP foreign leaders.
Ad. Article continues below.
So why is this new Beemer so good exactly? It has bulletproof windows made from layers of laminated glass and polycarbonate coating, making them hard but flexible enough to absorb the impact of a bullet. Essentially, it's a car to protect against an AK-47, the world's most popular weapon of choice.
The car's shell is impenetrable as are the tyres and petrol tank.
It seems Tony Abbott was growing tired of his V8 Holden Caprice fleet that had superseded features, but Labor has been quick to call out the purchase of BMWs, asking why Australia's own Holden wasn't considered for the new vehicles. According to the Attorney-General's department, Holden turned out not to meet the "full requirements" and the department had to seek the best "value for money". But is that really a good enough excuse? Holden is set to shut its factory doors here in 2017 and even our PM doesn't think it gives good bang for his buck.
So what do you think? Is it fair enough that the PM needs to buy a more protective fleet of BMWs or is it a ludicrous expense? Where could the money be better spent? Tell us below.