Tony Smith chosen as new Speaker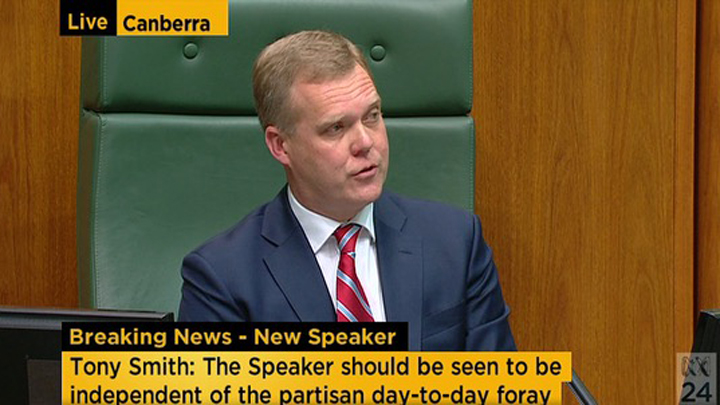 It's been a very strange few weeks since the Bronwyn Bishop controversy began, but at the centre of it all has been talk of who will sit in the chair when parliament sits again on August 10, and what type of Speaker they will be.
Well, today is August 10, and the MPs have spoken: Tony Smith will be the new House of Representatives Speaker.
The mild-mannered Victorian Liberal MP is the 30th Speaker since Federation and had the support of
Earlier, Government frontbencher Josh Frydenberg told Sky News Mr Smith had his support.
"I've made it very clear to my colleagues that I am backing my fellow Victorian Tony Smith," he said.
Ad. Article continues below.
"I think he is well credentialed with more than a decade's experience in the [position of] parliament chairman of the joint committee on electoral matters."
The majority of MPs who spoke to the ABC nominated Mr Smith as the favourite.
The ABC have helpfully compiled some fast facts about Tony Smith:
Has held Victorian seat of Casey since 2001
Former parliamentary secretary to John Howard
Has spoken in favour of electoral reform
Widely respected in Liberal ranks
Collects old Holdens, barracks for Carlton
Mr Smith has been described by colleagues as both mild-mannered and an "absolute revhead", but unlike his predecessor Brown Bishop, Mr Smith has said he will remove himself from party room tactics while he holds the position.
"I will not be attending weekly party meetings.
"It's my view that the Speaker should not only be, but also should be seen to be, independent of the partisan day-to-day fray.
"Can I say thank everyone 
for their generous remarks.
I just want to make a few remarks in response.
"Can I say, as everyone has done in this debate, recognise Member for Mackellar who I known for nearly 30 years, who has been a wonderful servant of our Party.
I want to recognise her at the outset.
"Can I thank the House for the confidence you have placed in me.
There is no greater honour in the Parliament than to be elected by one's peers.
I'm a servant of this House and all of its members".
"There is, however, a mutual obligation between 
presiding officers and individual members," Mr Smith continued.
"I want to say at the outset I will give a fair go to all on the floor of this Chamber but, in return, I do expect a level of discourse that reflects that.
Parliament is a robust place.
It should be 
a robust place.
It is where we battle our view of a better Australia.
It is the arena for the battle of ideas and ideals.
"I make that point because often people say Parliament shouldn't 
be robust.
It should.
But it needn't be rude and it needn't be loud.
That is something I'd like to see improved."
"I am 
going to make it a practice periodically to meet with the Leader of the House, the Manager of Opposition Business and Independent members to discuss the operation of Parliament.
I will have more to say on that during the course of this fortnight".
Ad. Article continues below.
Bill Shorten, Christopher Pyne and Tanya Plibersek also shared their congratulations, as did Tony Abbott. He said, 
"On behalf
 of the Government, may I extend to you our congratulations on assuming this high and important office.
As the Speaker, you, Sir, are the custodian of the traditions of this House.
"Your job is to maintain order in this House by commanding the respect of both 
sides of the Chamber.
I am confident, based on our friendship and comradeship going back some quarter of a century, that this is exactly what you will do.
"May I say, Mr Speaker, that in the course of your 15 year parliamentary career, you have met with some  
disappointments.
It is precisely because you have met with triumph and disaster and treated both those imposters the same that you have so strongly commanded a majority inside the Liberal party room and why you have been elected unopposed here in this Chamber".
Tell us, was Tony Smith the right choice? Is it time parliament was more robust?