Tony puts his foot in it again...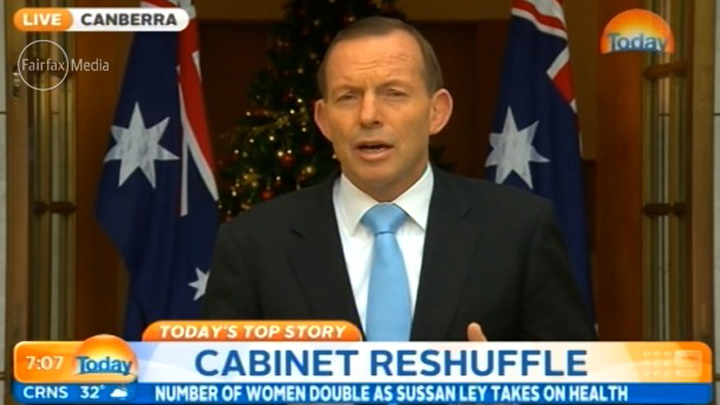 Tony Abbott never quite seems to say the right thing when put on the spot and never more so than this morning when Today Show presenter Lisa Wilkinson asked him what his greatest achievement has been as Minister for Women.
He fumbled a response about repealing the carbon tax and how it has resulted in more money for households. He made a gaffe by stating that women "are particularly focused on the household budget". But this isn't the first time Mr Abbott has commented on the role of a woman, leading many to believe he has archaic views of women in 2014 – a bit unfortunate considering his portfolio.
Tony was on air for a morning interview with the Today Show when he made the mistake of saying that $550 a year will benefit women in the home, leading to an influx of tweets and photos on social media today. The hashtags "putyourironout" and "thankstony" have gone viral, with women making a tongue-in-cheek reference to Mr Abbott's suggestion that women may put their extra money to better use around the house, with one Twitter user saying '#Thankstony With the Carbon tax repeal I can buy a new apron' and another tweeting, '#ThanksTony, because of the carbon tax repeal I can afford to leave my sandwich press on ALL THE TIME just in case my hubby wants a snack'.
Mr Abbott also mentioned that he was proud that another woman (now a grand total of two) would join cabinet as a minister. NSW MP Sussan Ley will be the minister for Health and Sport. When asked on Sunrise about his measly female representation, Tony defended his government by saying, "We have actually seven women on the frontbench…[and] we have got two cabinet ministers, two outer ministry ministers and three parliamentary secretaries so look, there are women in the corridors of power. This will become more and more the case. The challenge for all of us…is to get more women into public life, more women into the Parliament [and] once we have got more women in the Parliament, we will have more women in the ministry and more women in the cabinet".
Ad. Article continues below.
Many hoped Mr Abbott would use his cabinet reshuffling as an opportunity to hand over his portfolio to a woman, but it wasn't to be.
What are your thoughts on Tony Abbott's comments today? Should we be worried about females in government or is he making the right decisions? Does he have sexist views of women? Tell us below.