Tony Abbott tells Europe how to manage its refugee crisis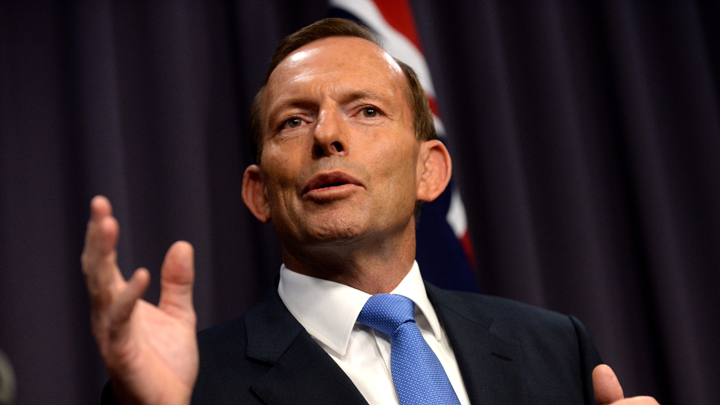 He may no longer be prime minister of Australia but Tony Abbott still has use for at least one of his catchphrases, appearing at function in the UK where he said Europe needed to "stop the boats".
During the second annual ­Thatcher Lecture at London's Guildhall, Mr Abbott warned that Europe is making a "catastrophic error" by admitting asylum seekers and should instead adopt Australia's turnback policy, The Australian reports.
In a copy of the speech obtained by News Corp, Mr Abbott, a staunch Catholic, says, "The imperative to 'love your neighbour as yourself' is at the heart of every Western polity… but right now this wholesome instinct is leading much of Europe into catastrophic error."
The speech continued: "All countries that say 'anyone who gets here can stay here' are now in peril, given the scale of the population movements that are starting to be seen. There are tens – perhaps hundreds – of millions of people, living in poverty and danger, who might readily seek to enter a Western country if the opportunity is there.
"Who could blame them? Yet no country or continent can open its borders to all comers without fundamentally weakening itself. This is the risk that the countries of Europe now run through misguided altruism."
Ad. Article continues below.
Mr Abbott said Australia was the only country that had successfully defeated people smuggling, and "our experience should be studied", Fairfax Media reports.
"Our moral obligation is to receive people fleeing for their lives. It's not to provide permanent residency to anyone who would rather live in a prosperous Western country than their own. That's why the countries of Europe, while absolutely obliged to support the countries neighbouring the Syrian conflict, are more than entitled to control their borders against those who are no longer fleeing a conflict but seeking a better life.
"This means turning boats around, for people coming by sea. It means denying entry at the border, for people with no legal right to come; and it means establishing camps for people who currently have nowhere to go.
"It will require some force; it will require massive logistics and expense; it will gnaw at our consciences – yet it is the only way to prevent a tide of humanity surging through Europe and quite possibly changing it forever."
Mr Abbott said if Margaret Thatcher were still alive her focus would be on "managing the nation-changing, culture-shifting population transfers now impacting on ­Europe; winning the fight in Syria and Iraq which is helping to drive them; and asserting Western civilisation against the challenge of militant Islam".
Do you think Tony Abbott should be telling other countries how to manage refugees? Can Australia's situation compare to Europe's?