Tony Abbott pens opinion piece blasting Malcolm Turnbull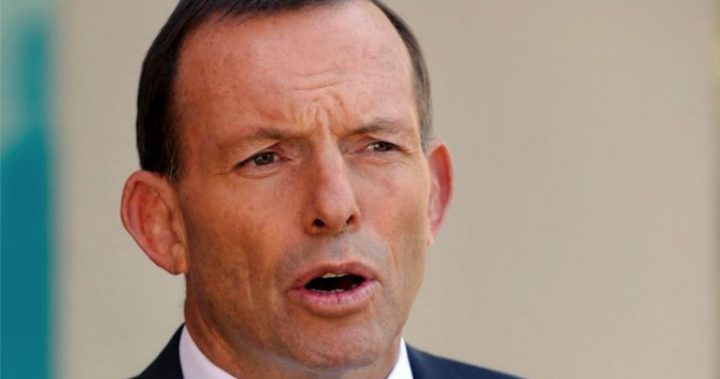 If you thought Tony Abbott was over being booted out as prime minister, think again.
The former PM has broken rank once again, this time writing an opinion piece for the The Australian and taking a swipe at his boss, Malcolm Turnbull.
In the piece published today, Mr Abbott signs the praises of incoming American president Donald Trump and tells people it's time to stop whining and start accepting the fact that he will be the leader of the 'free world'.
He then goes on to talk about Mr Trump's plan to cut business tax to 15 per cent and has a dig at Mr Turnbull for "abandoning" the tax reforms he put in place during his time as prime minister.
"It's a pity that Malcolm Turnbull abandoned the tax reform and federation reform white papers that had been well under way under my government," he writes.
Ad. Article continues below.
"This process was the best hope of securing a shift from taxing production to taxing consumption and for making government more efficient."
He then went on to say the government was worse off than it was 18 months ago before advising them on how to properly run the economy.
"As well, the government's commitment to repeal days and to deregulation more generally seems to have waned," he wrote.
"Although the government is in a worse position than it was 18 months ago to embark on a new round of major economic reform, there's still no time like the present to do so.
"The government's second move should be to bring in a budget that reduces spending as a percentage of GDP and reduces the deficit as a percentage of GDP every year.
Ad. Article continues below.
"But it has to be based on realistic assumptions about growth, not the fantasy figures that Labor always used to forecast a surplus just beyond the horizon."
There no word yet on how Mr Turnbull has reacted to this latest offering from Mr Abbott.
There has been talk ever since he was ousted, that he was trying to stir the pot and had his eyes on eventually returning as PM one day.
While he certainly has many supporters who would welcome him back with open arms, others aren't so sure.
What do you think?
Did Tony Abbott overstep the mark here? Or do you agree with what he's saying?