Tony Abbott backs Jacqui Lambie's attack on 'feminist religion' Islam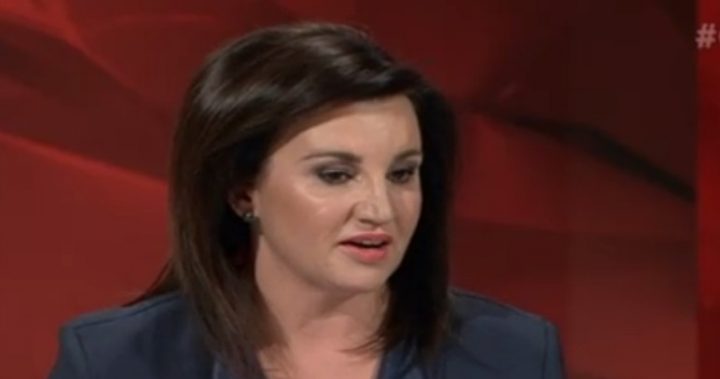 Jacqui Lambie has a surprise backer in her fight with Muslim activist Yassmin Abdel-Magied: former PM Tony Abbott.
Abbott told The Australian in an exclusive interview that Abdel-Magied "must have been wearing a blindfold" when she toured a number of Islamic countries at taxpayers' expense.
Tasmanian senator Lambie and the 25-year-old activist got into a fiery debate on the ABC's Q&A program on Monday after Lambie criticised the treatment of women under Sharia law.
"Islam is the most feminist religion," Abdel-Magied shot back, as the discussion descended into a shouting match that had to be quelled by host Tony Jones.
Speaking to The Australian, Abbott said: "If she's right that 'Islam is a feminist religion,' how come such terrible things are done to women in its name?".
Ad. Article continues below.
This week it emerged that Abdel-Magied had been on a tour last November to Saudi Arabia, Abu Dhabi, Dubai, Doha, Kuwait, Jordan, the West Bank, Israel, Egypt and Sudan to promote her book about being a Sudanese-Egypt­ian-Australian Muslim woman who wears the hijab.
The Australian reported that the tour was funded by the Department of Foreign Affairs and Trade (DFAT).
DFAT told The Australian that it covered the cost of the tour because Abdel-Magied was promoting Australia as an "open, innovative, democratic and diverse nation," but declined to reveal the cost of the tour.
A group of prominent Muslims and Islamic organisations have called on the ABC to apologise for the nature of the Q&A debate, which they said violated the national broadcaster's principles.
Meanwhile, Lambie yesterday pushed on with her campaign to ban the burqa and other head coverings in public places.
Speaking in the senate about her private member's bill, she said Muslim women had been emboldened by her proposed ban and comments on Islam.
What do you make of claims that Islam is a "feminist religion"? Do you think Jacqui Lambie is right to fight for a ban on head coverings?