Tomic has something to say about he and Kyrgios' bad behaviour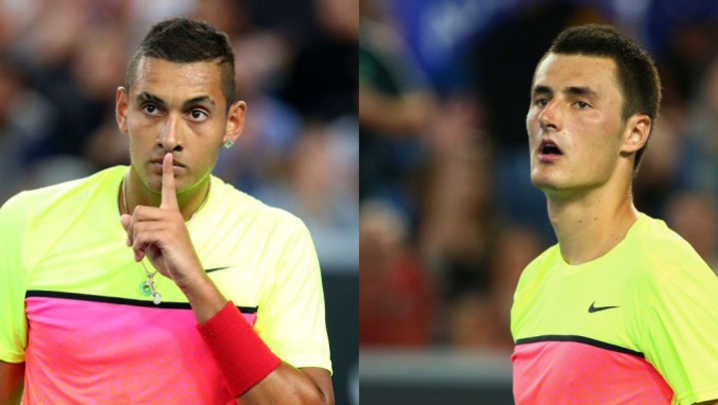 They're the words we didn't think could come out of Bernard Tomic's mouth but finally the tennis brat has admitted that he and his friend and co-tennis player have a bit of a problem…
An image problem.
Currently representing Australia in the US Open, Tomic gave perhaps his most frank and honest interview yet.
He's promised to lift his game, and not just on the courts. The 22-year-old has admitted that the famous and fortune at such a young age really wasn't doing him any favours off-court.
"We're not perfect," Tomic said, reports the ABC.
Ad. Article continues below.
"I experienced a little bit more when I was younger – 18, 19 – but Nick's obviously in the rollercoaster that I am so he has to handle it as best as he can. Only he can handle it the right way.
"Obviously I had what I had, but I think on court I've improved a lot the last few years and mentally I'm pretty good on court whereas I think Nick on court struggles a little bit.
"But he's getting better – he just needs time, he's a good bloke and I really wish the best for him".
Tomic accepted he and Kyrgios were not giving Australian tennis a good look and hoped he could restore his reputation, though he did warn that the boys are who they are.
"We're our own individuals and we're always going to have this. The next 10 years, it's going to be like that for sure," he said.
Ad. Article continues below.
"On court, I think I'm very good but off court there's some problems and he's the opposite way around. He creates problems on court.
"But it's our personality, our character. Obviously it's not the best thing but we have to work on this for sure. We have to improve.
"It can be tough to control but our personalities, the pressure around us, but we always can sometimes explode on the side.
"Maturity is the biggest key, also having a lot to do with money coming in; it is different," he said.
Ad. Article continues below.
"At our age, having that stuff around, it is tough to control and I found myself very good last year.
"I am working as hard as I can. I am putting the main thing in front of me and that is tennis, to be the best that I can".
Both Kyrgios and Tomic have faced criticism over their inability to watch their mouths and behave themselves while the world's media are watching, and for making Australia look bad. They're the next generation…and are taking over the reins from tennis greats Lleyton Hewitt, Pat Rafter and Rod Laver.
"I'd like to think that I'm going to learn from it. I think I have. I think I'm on the right path," Nick Kyrgios said to reporters.
Ad. Article continues below.
"I don't think any of us in this room right now were perfect at 20. Speak up if you were". Fair point.
Tell us, is all forgiven? How can they fix the damage done to our rep?