Today show hosts label Brisbane man an Aussie "hero"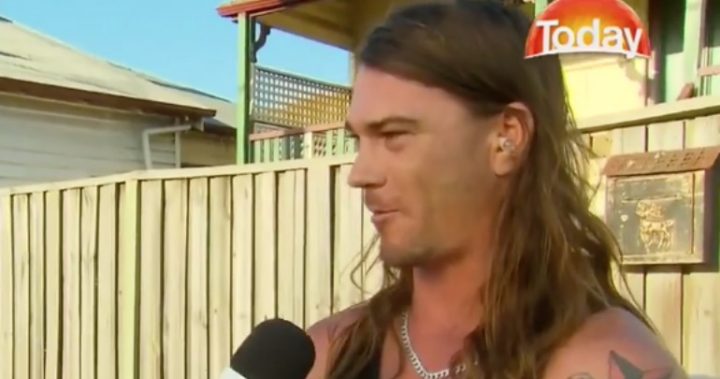 An interview with an unlikely "hero" has given the Today show hosts and social media a good Aussie laugh this morning.
Brisbane man Daniel McConnell has shared his account of a crash near his home overnight with the Today show team, in what some are describing as "the most Aussie interview ever".
He said he was in bed sleeping when his wife came in and told him someone had crashed into the shop.
"I jumped out of bed and all I had was me undies on and I walked out the front and I seen the car smashed and I seen the bloke walking back to the car," he said.
"So I've walked outside and I said 'what are you doin mate? like you can't be leaving the scene' and he goes 'don't be a hero mate' and I said 'I'm not trying to be a hero but the police are coming."
Ad. Article continues below.
McConnell went on to describe how he jumped in his car and chased the guy up the road.
"He just decided he'd scoot up the road and I just said 'nah it's not goin on like that mate' so I jumped in my car and I started chasing him up the road," he said.
"All I had was me jocks on and I was chasing him up the street and I'm just like, mate!"
It turns out the shop belongs to one of his mates.
When asked if he felt like a hero, McConnell said it was "just something you've gotta do for the community".
Ad. Article continues below.
"You look after your mates and your mates will always look after you," he said.
Lisa Wilkinson and Karl Stefanovic had a good laugh over the interview, with Stefanovic labelling McConnell the "Aussie of the day".
The Today hosts gave him a round of applause, congratulating him for his efforts.
"You know all good superheroes wear their jocks on the outside so it kinda fits the brief, pardon the pun," Wilkinson said to McConnell.
Ad. Article continues below.
"Yeah but I had nothing on bar me jocks," he replied to laughs from the hosts.
"Well you missed that bit of the uniform but you're a hero in our eyes. Well done Daniel." Wilkinson said.
The interview has gone viral, with more than a million views in an hour on the Today show Facebook page.