This was really Clive Palmer's top priority as QNI collapsed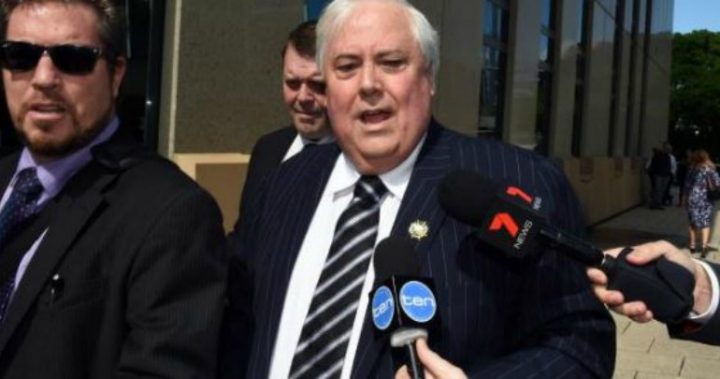 If you thought Clive Palmer was concerned in the least about what was happening at Queensland Nickel before its collapse, you'd be wrong.
It turns out Palmer's sore foot was his 'top priority' in February, not the collapse of Queensland Nickel nor the redundancy of hundreds of workers.
Appearing in the Federal Court, Palmer continued to avoid questions that would prove he acted as a shadow director of the company.
Under cross-examination by special purpose liquidator PPB Advisory's barrister Tom Sullivan QC, Palmer claimed he had "no idea" of the balance of various NAB accounts and one in Papua New Guinea, and repeatedly told the court that his sore foot "took priority in my thinking" in February, weeks after Queensland Nickel collapsed and 237 Townsville workers were left without a job.
Palmer had tried to have the day's hearing halted because he had launched an application to the High Court to stop him from giving evidence. He also indicated he would seek another injunction against PPB Advisory so that they could not gather details of his personal assets.
Ad. Article continues below.
"I won't voluntarily provide you with anything," he told the court.
Palmer claims to have no knowledge of what cars, bank accounts or properties are owned in his name or what they are worth.
Despite text messages showing he was informed of the rising debt of Queensland Nickel, Clive Palmer still insists he had no knowledge of the company's tumbling finances, and further claims he was not aware more than 200 refinery workers would be made redundant until it was officials announced on January 18.
In February, Palmer absolved himself of being involved with what was going on, stating a medical problem with his foot was causing him pain.
When asked in court if he considered himself a 'savvy' businessman, Palmer responded, "I'm retired so I'm not as good as I used to be" going on to explain that 'retired' meant "having a casual attitude to life" instead of stopping work.
What's your meaning of 'retired'? Has an injury or illness ever stopped you from doing something? Share your stories with us.