This photo is changing peoples' minds on refugees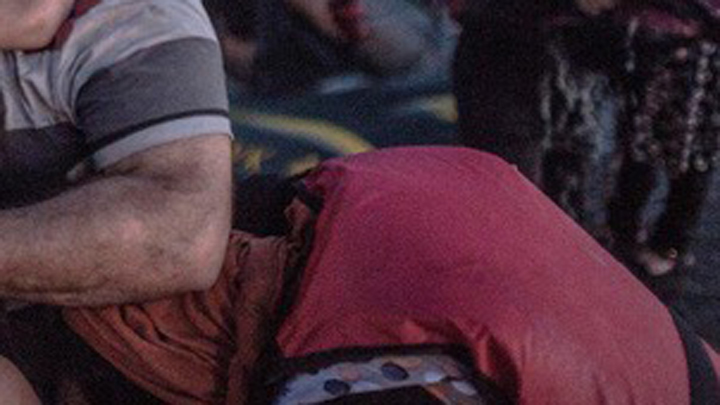 It is perhaps too heartbreaking to contemplate, or too hard. Imagine you were running from war, conflict, terrorists, any number of things that were putting you and your family's lives in danger. It wouldn't be a matter of where, but a matter of when.
Simply, putting ourselves in the shoes of a refugees is incredibly difficult. Australians live in a stable environment free from warfare and violent attacks on the masses. We could never fathom the feeling of fleeing from everything you know.
That is why this image of a man has gone viral, as it epitomises a sense of enormous relief at a time of desperation and uncertainty, whilst holding on to everything you hold dear.
An entire country's pain captured in one father's face. Syrian refugee family arrives at Kos. Pic by @DanielEtterFoto pic.twitter.com/wMEUy5sUMQ

— Mary Fitzgerald (@MaryFitzger) August 18, 2015
Ad. Article continues below.
The photo of Laith Majid clasping his son and daughter after their rickety boat arrived safely on the Greek island of Kos has been shared thousands of times across the world since it was first published by the New York Times on Sunday.
Freelance photographer Daniel Etter was deeply moved by the moment he had captured, posting to Facebook: "I might not be the most emotional person, but the father, Laith Majid, and his reaction when he and his family reached Greece still makes me cry".
Majid's pained expression has become the face of asylum seekers at a time when we have long viewed them as faceless.
"Tony Abbott stopped the boats. At least his problem is gone. Look at this picture and try not to feel something," wrote Australian award-winning photojournalist Andrew Quilty, reports Fairfax.
The story behind the image is Majid and his children were among 15 men, women and children who hopped on a rubber boat that travelled from Bodrum, Turkey to the Greek island.
Ad. Article continues below.
The family fled their home in Syria, but did not take the decision lightly, said Etter.
"[The wife] told me it took them a long time to decide whether to leave their home or not", and it cost them around $8,000 AUD to travel two hours from Bodrum to Kos.
"After more than two hours of driving the boat had lost air, water had leaked into it, the refugees were soaked when they arrived at the shore. They were then completely relieved to have arrived safely," Etter told German-speaking news site Speigel.
"In that moment it all came at them together, the joy of having done it; the love for their family; the grief over what had happened".
Etter has been overwhelmed by the reaction and said "This is why I do what I do".
Tell us, did the photo make you reconsider or reaffirm your views on refugees?