This mini-Royal guard will melt your heart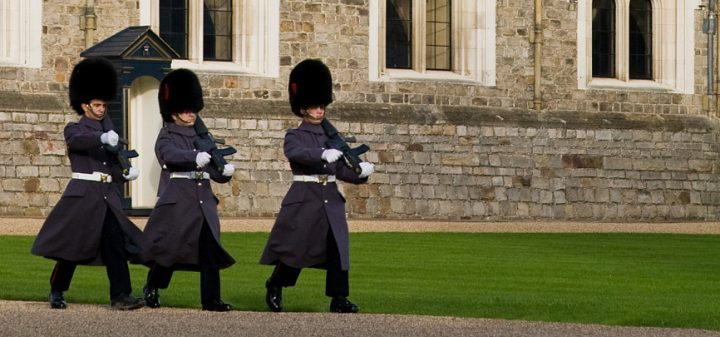 Most children when they grow up want to be an astronaut, firefighter, or superhero, but one little boy's dream has won the internet as he wants to be a Royal Guard. For his fourth Birthday his parents took him to Windsor Castle when something extraordinary happened.
Marshall Scott, the four-year-old English boy, dressed in his best Royal Guard costume got the surprise of his life when he was watching the changing of the guard, and the guard summoned Marshall over to have him stand at attention next to him. Marshall jumped at the chance and saluted the crowd.
The boy's mother, Imogen, was moved by the experience telling The Daily Mail, "He wanted to visit the castle for his birthday but just had no idea what would happen.
"We are so overwhelmed and thankful for everything."
Ad. Article continues below.
Imogen explained Marshall's love for Queen and country saying, "He is very patriotic and says the Queen is 'lovely and beautiful'.
Posting to her Facebook later, Imogen wrote, "Want to say thank you to all the people that stopped to have photos with him & wished him a happy birthday, to the family that bought him a soldier teddy, to the group of girls that got everyone to sing happy birthday to him & to the soldier who, after his march, stopped all the other soldiers to come back to Marshall to have photos with him (didn't get a picture as my phone reset it self) Apparently it has been 'THE BEST BIRTHDAY EVER'"
When there is so much bad news in the world, all it takes is a little boy getting his birthday wish to let you know that there is still plenty of good out there. With the video of Marshall going viral with over a million views in 24 hours, there seems to be many out there feeling the same way.