This is Australia's word of the year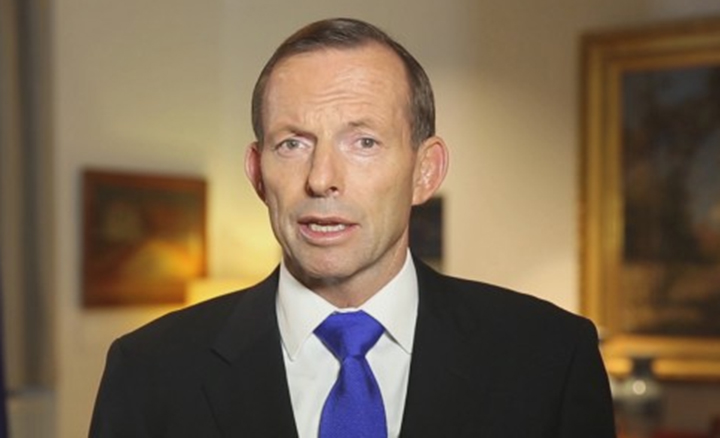 Most world leaders manage to get themselves into the history books through the political acts that they and their parties implement or remove. However our Prime Minister Tony Abbott has taken a slightly different route in the quest for historical significance.
Discussing Vladimir Putin earlier this year, Tony commented that he would 'shirtfront' the Russian President later in the year at the G20 Summit in Brisbane.
The comment was in regards to Putin's handling of the Ukrainian crisis, as well as the handling of the MH17 disaster. "Look, I'm going to shirtfront Mr Putin … you bet you are, you bet I am", Abbott said in October.
Shirtfronting, usually discussed in matter regarding confrontations in football, has been a well-known phrase for many years. However it was the use of the word in a political context by Tony Abbott that earned the word significant media coverage. For this reason the National Dictionary Centre (NDC) was influenced to crown 'shirtfront' as Australia's word of the year.
Ad. Article continues below.
"We selected shirtfront because we saw it really dominated the media this year," said NDC director Amanda Laugeson.
However it wasn't just news media that did the rounds with this word. Social commentators, educators and comedians have been having a field day with the infamous term, spawning a series of funny images and videos.
https://www.youtube.com/watch?v=xnivpA3EE3w
Ad. Article continues below.
In addition, politicians alike have had the term shirtfront on their lips. UK Prime Minister David Cameron and Indian Prime Minister Narendra Modi have both been quoted as making light of the term.
Ad. Article continues below.
That's not to say that there weren't a number of other words that the NDC considered for the title.
'Team Australia', another phrase used by Tony Abbott, was highly considered for the position. While the word has also been around in sporting terms, it was the Prime Minister that changed the nature of the phrase.
"Tony Abbott is obviously using it in a very particular political context and we've seen it be picked up across the media and being referred to", said Ms Laugeson.
In addition, 'Ned Kelly Beard' was also shortlisted as word for the year, which refers to the unkempt bushranger style beard that has become trendy amongst younger men in the previous year.
Ad. Article continues below.
Similarly, 'man bun', the top knot type of hairstyle popular in younger men, was considered for the position as well. The haircut has become so famous that it has been affectionately shortened to the term 'mun' by fans.
What do you think of this decision? Can you suggest a better alternative to shirtfront? Have you heard of any of the finalists for Australia's word of the year? Let us know in the comments