See the heartwarming moment a sick pensioner had his faith in humanity restored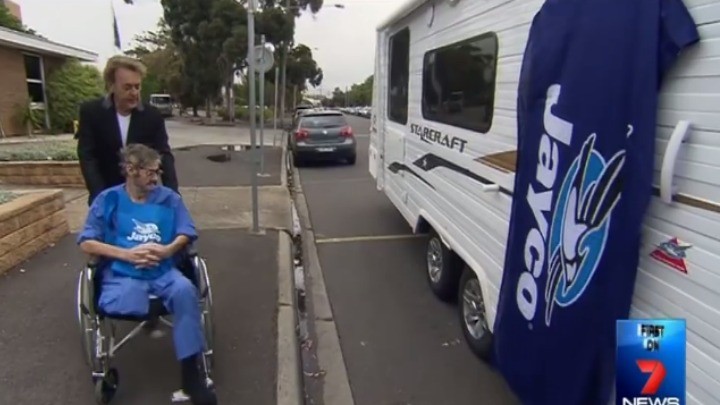 A 78-year-old disabled pensioner has had his world restored to rights after heartless thieves stole the caravan that was his only home while he was in hospital.
John Parker, who is blind in one eye and has lung disease, was in Williamstown Hospital recovering after having his lower leg amputated as the result of a fall when he was told his caravan had been stolen.
Thieves were captured on CCT towing it away early Saturday morning from the Brooklyn truck stop he had lived for almost a year, until he was admitted to hospital several months ago.
A visibly upset and shaking John Parker appealed on Channel 7 TV for the return of the 1979 Viscount caravan.
"It was virtually finished but I want it back," he said. "It's mine."
Ad. Article continues below.
Predictably, the thieves did not return the  caravan, but his plea was heard by other kind-spirited people who decided to do something to right the wrong that had been done to the pensioner.
So, earlier this week, John was wheeled out the front door of the hospital in a wheelchair to find a brand-new Jayco Starcraft caravan there, courtesy of businessman and Jayco founder Gerry Ryan.
His reaction was priceless: "I can't believe this. You haven't got a second-hand one there, have  you."
The overwhelmed pensioner added: "To do this for somebody they don't even know, they have a bloody big heart."
Jayco's Gerry Ryan was obviously moved by the pensioner's response.
Ad. Article continues below.
"To see that smile on his face, to give him some respect back and some security – we are very pleased to help," he said.
Mr Parker, who has no close family, is now looking forward to living in the caravan on a friend's property in the country north of Melbourne when he is eventually released from hospital.
Police have released the CCT footage of thieves making off with his old caravan, and he is also still hopeful someone will dob them in and they will be caught.
Ad. Article continues below.
7 News | Special deliveryAn unwell pensioner who had the caravan he lived in stolen while he was in hospital says he's had his faith restored in humanity – thanks to the generosity of 7 News viewers.Karen O'Sullivan has the happy update.Latest from 7 News: http://yhoo.it/1HYefMw7 News video: http://yhoo.it/1V97pbWLatest news on Twitter: twitter.com/7NewsMelbourne

Posted by 7 News Melbourne on Wednesday, 21 October 2015
What's the kindest act of generosity anybody has ever done for you? Or you have done for someone else?