This groups says Melbourne Cup is "public form of animal cruelty"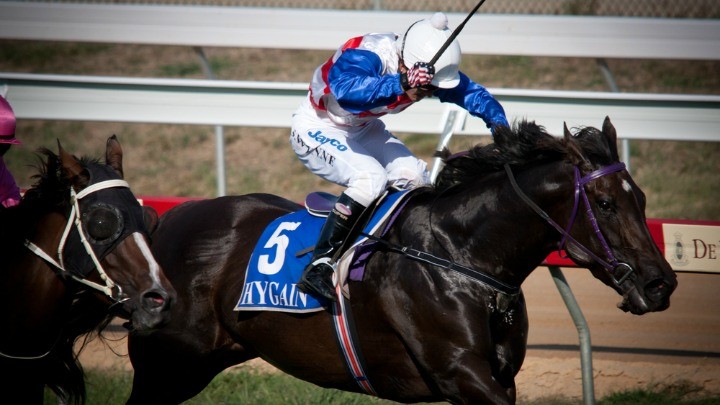 We may think it's a bit of fun and sportsmanship, but a respected animal charity says that on Melbourne Cup day, Australian racing authorities are not meeting their obligations under an international agreement, and that the way the horses are raced is cruel.
The RSPCA says, "When millions of Australians tune in to watch the race that stops the nation, too few will realise they're not only witnessing the most public form of animal cruelty, but they're actually cheering it on."
The Society is opposed to the use of traditional contact whips in horse racing, due to their potential to inflict pain and injury to the horses.
"The RSPCA believes a top performance horse needs great genetics, great preparation and great horsemanship. Whipping does not come into it."
The results of an observational study commissioned by the RSPCA found that thoroughbred horses were whipped unnecessarily during a race and that the padding on the whip offered no protection.
Ad. Article continues below.
The study was conducted by a veterinarian and built on a previous study that showed that whipping the horses made no difference to the outcome of a race. They also observed that many of the rules regarding whips were broken. Jockeys can currently whip their horse as many times as they want during a 100-metre race.
Other findings included:
The whip caused a visual indentation on the horse in 83 per cent of impacts
The unpadded section of the whip made contact on 64 per cent of impacts
At least 28 examples of apparent breaches of whip rules were found
More than 75 per cent of the time the whip struck the horse in the abdomen (or flank)
The majority of jockeys observed used a backhand whip action, possibly to avoid being penalised as the current Australian whip rules maintain a focus solely on forehand action.
The RSPCA says that since the use of whips can't be effectively policed by racing authorities, they should be banned all together.
In 1966, Walter Hoysted, a member of a famous racing family, brandished a shotgun from the middle of the track at Flemington in protest at what he regarded as excessive whipping of horses, the Herald Sun reports.
Do you think the whipping of horses during the race is cruel or is it par for the course? Share your thoughts.