This couple has been on 64 cruises together: here's how they did it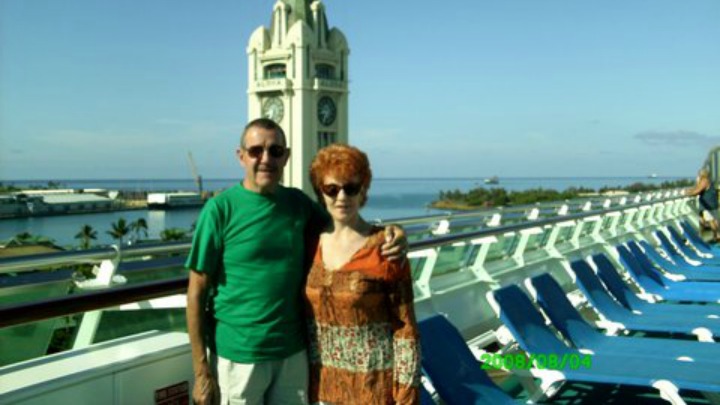 When Brian and Irene Winchester embarked on their first cruise to Northern Europe as newlyweds in 1955, they sparked a lifelong passion which still invigorates them today.
The 81-year-olds have now completed 64 cruises, visiting 95 countries and spending over 1100 days together at sea! To top that off, Brian and Irene are still madly in love.
The couple list their most memorable experiences as dancing along Broadway in New York, taking a private underground tour of the Taj Mahal, meeting a wild sloth in The Amazon, and entering a drive-in volcano in the Caribbean.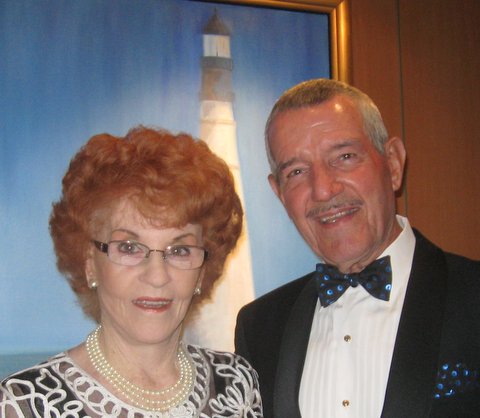 So what's their secret to happy travels, and a happy marriage?
Ad. Article continues below.
"We share all of our experiences together," says Brian. "Whether it's a view, a mishap, feast or famine, we share everything together because we are still in love."
"When our generation married, if something did not work, you repaired it," adds Irene. "Love should not be tossed out, as often happens in this modern 'throw away' society."
Brian and Irene recently celebrated their 60th Wedding Anniversary, which coincided with their 64th cruise together. The couple chose to sail the Mediterranean, on board the Emerald Princess.
"Marking our diamond anniversary at sea, I also wanted to renew our vows for two selfish reasons," jokes Brian. "Firstly, before Irene got a better offer. And secondly, as a chick repellent!"
"We had eleven guests at our renewal and the Captain officiated," says Brian. "He told Irene to keep a stiff upper-lip during the vows, but in the end I was first to be overcome by emotion. There was not a dry eye in the house when we said 'I Do'!"
Ad. Article continues below.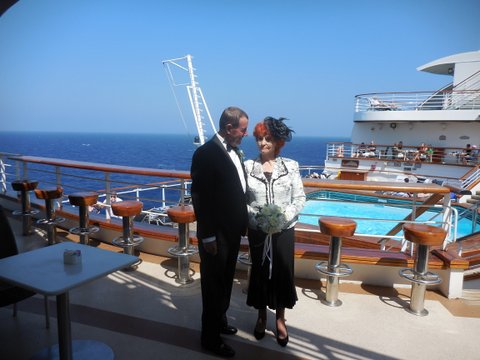 Creating special memories is one of the reasons Brian and Irene love cruising. "Cruising holidays are also the best value for money," explains Irene.
"For about $150 per night, you get acceptable accommodation, professional entertainers, world class cuisine, impeccable service and foreign ports. Most importantly, the staff relies on you coming back for more, so they show it."
Affording 64 international cruises is no easy feat, though Brian and Irene say they have always "worked hard and managed money sensibly".
The couple encourages first-time cruisers to choose a favourite cruise line, and then stay loyal to it. They also recommend building rapport with a local travel agent, who can advise of the best-value airfares and upcoming discounts.
Ad. Article continues below.
Brian warns first-time cruisers not to be hoodwinked by glossy advertising. "If a company advertises frequently, their products have to be pushed and you pay for those ads. Find a smaller mob that rarely needs to advertise, simply because their products are so good."
"It's a good idea for first-time cruisers to try 7 days at sea," adds Irene. "If you remain within Oceania, you won't need to pack differently for new climates. However, we always travel with pegs and a rope to create a makeshift laundry line. We also have a small wallet of needles and thread for clothing emergencies."
Brian and Irene say that cruising has changed over the past six decades. "In our earlier cruising days, passengers were compelled to make their own fun," recounts Brian.
"Once, I won a fancy hat competition. The only rule was to utilise materials on board. I begged for cardboard, covered it with crepe paper from the ship's shop, and the back of my hat was decorated with a black bra!"
So after 64 cruises, why do Brian and Irene keep casting off? "To meet nice people," says Brian. "Meeting nice people is like starting a new book. You will be a little awkward at first, but soon you will find similarities and differences. Every new person is like turning the page."
Ad. Article continues below.
Brian and Irene don't show any signs of stopping, either. Their next cruise to Japan via China has already been booked for February 2016, in time for the cherry blossom season. For many 81-year-olds, this fast pace could be too much.
"We stay active by thinking positive, and maintaining balance," says Brian. "We choose not to gamble, over-eat, over-drink, laze around, take drugs or break laws. Our health is wealth, and our bodies were made for moving."
Brian and Irene say they could never choose a single favourite destination. "Every time we return to Australia though, we always pinch ourselves to be reminded that we live in The Lucky Country."
Where would you like to most visit on a cruise? Do you have any great budget and travel tips to share?