This chest tattoo has gone viral, but wait til you see what it's of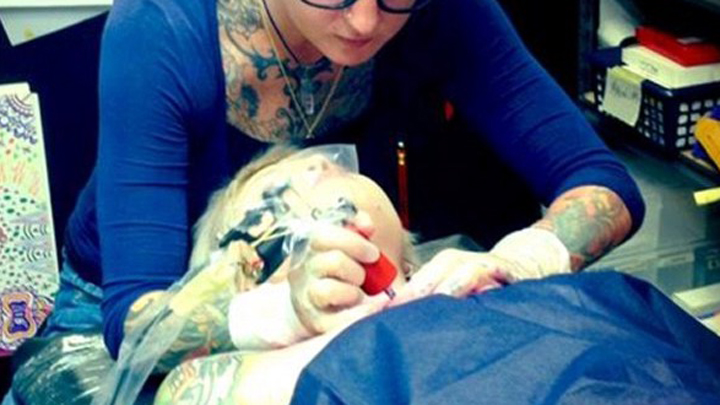 When we think of chest tattoos, we immediately think they are tacky or unnecessary. They tend to be scarring and can often be one of the first things you notice about someone wearing a singlet or lowcut top. But what if that tattoo actually was covering up a scar itself? And what if that scar was from a mastectomy?
Would that make it OK?
Darwin-based tattoo artist Mim d'Abbs had been tattooing for years but this week, a client came in with a unique request: to tattoo over her mastectomy scars. Initially apprehensive because of tattoo ink's resistance to scarring, Ms d'Abbs agreed and tattooed a floral design over the woman's breasts.
Ms d'Abbs wrote this on her Facebook page:
Today I tattooed something very different. My apologies to those that find this confrontational, but my client and I both thought it should be posted. This is a tattoo over reconstructive surgery, post a double mastectomy. Seeing my client smile, made this possibly the most important tattoo I've done to date. I thank her for wanting to show people what can be done with art and skin, and for allowing me to do it.
Ad. Article continues below.
The before image showed the client's bare chest and scars from a double mastectomy, while the after shot showed the black and grey design tattooed over the area.
News sources around the world have contacted the tattoo artist and she told the NT News she was blown away with the response.
The client, a woman in her late 40s, was also overwhelmed by the positive response.
Hopefully, with more openness and less stigma around mastectomy scars, more women can feel liberated enough to show their survival scars with pride, if that is what they want.
Ad. Article continues below.
Although a tattoo isn't for everyone, this type of ink can make something disfiguring look like a piece of art.
Tell us, do you or someone you know have a mastectomy scar? Would you or they consider a tattoo over the spot?