This Canuck didn't brush up on the rules before he met the Queen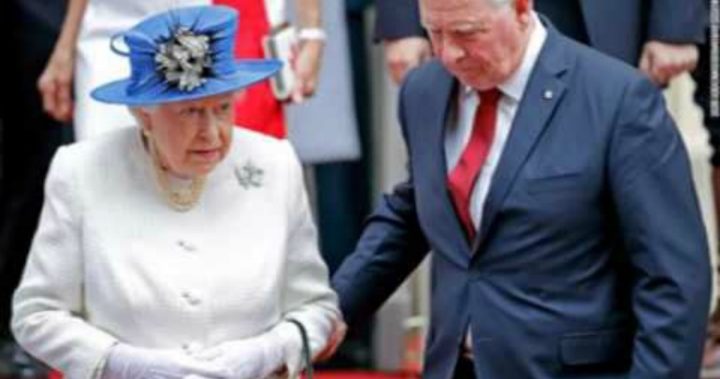 Anyone who meets with the Queen knows that under no circumstances should they touch Her Majesty.
It's a breach of royal protocol, a huge faux pas, and when it happens it causes outrage and makes news. 
Read more: Prince William breaks royal protocol for beautiful reason
But it looks like no one told the Canadian Governor General, David Johnston, before he greeted the Queen at Canada House in London. 
Johnston shook the Queen's hand as she arrived at the house to mark Canada's 150th birthday, but she must have done an excellent job of making him feel comfortable as he gripped her elbow and touched her back to guide her up the steps. 
Ad. Article continues below.
Now, for anyone not versed in royal protocol, he no doubt just looked like a gentleman helping a 91-year-old lady up the steps, as anyone would. 
Etiquette experts on the other hand are horrified. 
Ad. Article continues below.
Dr Kate Williams, a historian, told the Express why royal protocol is considered to be so important. 
"From medieval times, monarchs were divinely appointed to rule by God, so they were kind of seen as gods, so they demanded to be treated as gods," she said.
"They are treated as people set apart from the rest of us, so primarily what it is creating is distance and grandeur.
"You don't kiss them, you don't touch them, you bow – over and over again."
Johnston isn't the first one to break with protocol; Michelle Obama famously put her arm around the Queen in a warm hug, and our own former prime minister Paul Keating once caused outrage in Britain putting his arm around her, earning him the nickname "The Lizard of Oz" in British tabloids back in 1992!
Ad. Article continues below.
Tony Abbott did the same with Prince William in 2014. Looks like we just can't keep our hands to ourselves!
The good news is, the Queen didn't seem to mind Johnston's touch.
Do you think royal protocol serves a purpose, or is it just an archaic tradition?