There's been another gross find in a supermarket hot chicken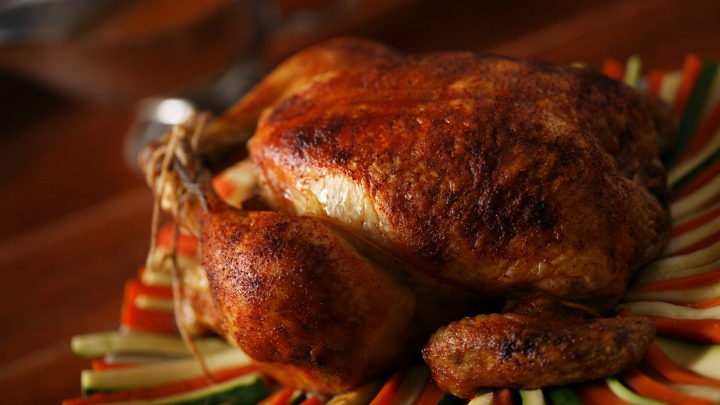 Remember back in September when a woman in Western Australia reported finding maggots in a roast chicken she bought from Coles?
Well, there's been another gross find in a Coles roast chicken.
Read more: Shopper finds nasty surprise in supermarket roast chicken
This time, a Victorian family found maggots in their hot chicken as they sat down to eat their dinner on Sunday night.
Darryl Colville wrote on the Coles Facebook page, warning customers that he had found maggots in two hot chickens he bought from Coles at Horsham.
Ad. Article continues below.
He told Yahoo7 that his family were able to have their dinner when his 14-year-old daughter said "there's maggots in my dinner".
But wait, there's more.
It turns out his kids had actually eat one of the chickens before noticing.
Ad. Article continues below.
"I got an absolute shock, the three kids had been into it and there was a few crawling in my daughter's dinner," Mr Colville told Yahoo7.
"The other two didn't notice, teenagers you know, just started hoeing into it… but my daughter is very picky with her food."
He expressed his fears about his children health, keeping them home on Monday incase they were sick.
"I contacted the hospital and a nurse on call said to watch for food poisoning," he said.
So, how did Coles respond?
Ad. Article continues below.
Coles has spoken to Yahoo7, stating they are investigating the claims. 
"We take the quality of the products we sell seriously and are following up with the customer to investigate," a Coles spokeswoman said.
Meanwhile, Mr Colville has said that while he wad offered a refund, he was disappointed with the supermarket's response.
"They said just bring it in for a refund, I got a call the next day and they said they're going to do an investigation," he said.
"The manager gave me a refund and said "would you like an extra couple of chickens.
Ad. Article continues below.
"I thought, you're bloody joking… I had to bite my tongue."
Mr Colville has taken the chickens to the health inspector so the maggots could be tested.
Social media however is divided, with some comments on the post on the Coles Facebook page casting doubt over whether the maggots are real or not.
What do you think? Have you ever had a gross find in your supermarket purchase?