The world goes colour crazy...Tony Abbott still says no!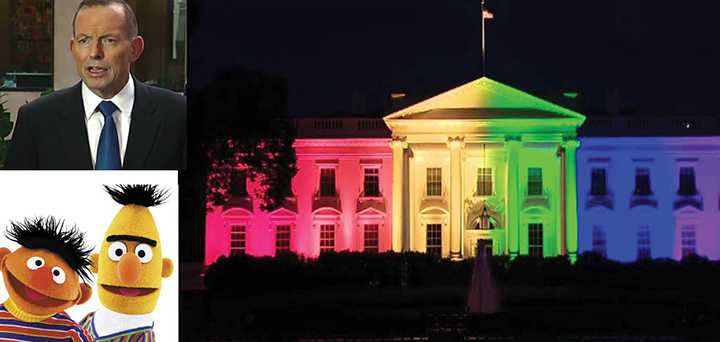 Americans gay, straight and bisexual are celebrating in grand style this weekend and we have all the social media activity to share with you.  It seems somebody in this country is going to have to stand up and loudly disrupt the political landscape for our current Government to contemplate a move like that in the US on Friday where the US Supreme Court voted to legalise same-sex marriage nationwide.  Despite Facebook's many striped colours app, Mr Abbott has, according to today's media, remained adamant that he has not changed his mind following the US ruling.
 'What happens in the United States is obviously a matter for the United States, just as what happened in Ireland a few weeks ago is a matter for the Irish,' Mr Abbott said to a flock of reporters.  'Obviously there is a community debate going on, I have views on this subject which are pretty well known and they haven't changed.'
The ruling, which has literally changed the world, was done during the Pride Week in San Francisco and New York, and during LGBT Awareness month.  The new laws provide in the US constitution that gays and lesbians will now be aligned with the same rights to marry as heterosexuals, an exciting moment for so many couples who can be seen across Facebook celebrating their liberation.
It has left many in Australia shaking their heads though, wondering firstly whether this change of sentiment on such a  broad and accepting scale in the USA towards gays and lesbians will allow the ice to break for Australia and provide for an eventual change of policy.  And left us wondering why in fact our current conservative government is not more interested in seeking feedback from the public they represent on whether Australian laws need adaptation too.
Ad. Article continues below.
Surely this type of decision is for the conscience of our country rather than for party politics to decide?
There's been some exciting weddings over the weekend, the most talked about has been that of  octogenarians, Evans, 85, and Harris, 82, who received their marriage license in Dallas Texas Friday morning and were married later that day.
Perhaps the best we can do is make a whole lot of noise about what the over 60s think about freedom to marry, and so our Government can hear it.
So enjoy the tweets below, share in the excitement of this momentous occasion for the US, and tell us, do you think Australia should change the laws sooner rather than later?  And do you think a parliamentary conscience vote would do it?
Ad. Article continues below.
this is everything #LoveWins pic.twitter.com/NM3PkAk2NJ

— ♡ (@janosftarixna) June 27, 2015
Here's how #ArnoldSchwarzenegger replied to a fan "offended" by his rainbow-hued photo on Tumblr. #LoveWins pic.twitter.com/0CrfTxorGx

— Claudia Miles (@claudiamiles) June 27, 2015
Keeping this copy of @chicagotribune forever. Witnessing history is so cool. #LoveWins pic.twitter.com/lm6dPxkuvk

— Rachel // (@dirtyhitrachel) June 27, 2015
Ad. Article continues below.
YES DISNEY YES #LoveWins pic.twitter.com/me1IBG5oo9

— jess (@pinelwt) June 27, 2015
Dallas' first married gay couple has been together for 54 years, and counting! #LoveWins pic.twitter.com/Hmh81e9nn0

— Ben Van Alboom (@fakerholic) June 27, 2015
Ad. Article continues below.
Progress #LoveWins pic.twitter.com/PFjsUA7Lu1

— Markell Bailey (@tenorbuds) June 27, 2015
This is my favorite photo on the Internet. #LoveWins pic.twitter.com/AyZrxQcQFC

— Kelsie Tyson (@nnaeislek) June 27, 2015
Looks like Ernie & Bert have left Sesame Street and gone on their honeymoon #LoveWins pic.twitter.com/kVlBZmv1Sg

— keith lyle (@funnykeithlyle) June 27, 2015
Ad. Article continues below.
Such a great feeling to wake up in a Country where LOVE is the law of the land!! #LOVEWINS pic.twitter.com/SK31mq3G9B

— JØ (@crazyjo122) June 27, 2015
Happy London Pride 2015. #dear #LoveWins pic.twitter.com/8DOGP0qCuh

— westendproducer (@westendproducer) June 27, 2015
Ad. Article continues below.
As a nation, we took a big step forward this week. Congratulations, New Mexico. http://t.co/3vhIH2QShd #LoveWins pic.twitter.com/0QG7qqyeGe

— OFA NM (@OFA_NM) June 27, 2015
My heart is happy #LoveWins ❤️ pic.twitter.com/Tr1ybEubR7

— Typical Girl (@female_books) June 27, 2015