The sweet reason behind Stephen Conroy's shock resignation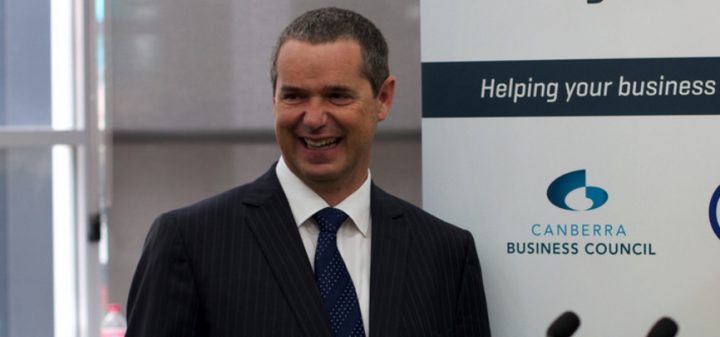 "When you resent being in Canberra because you are missing your daughter's soccer training it is time to retire from the federal parliament" is the reason for the shock exit of Senator Stephen Conroy.
Ad. Article continues below.
Stephen has been in federal politics for 20 years and tabled his resignation speech to the Senate during the marathon budgeting discussion last night.  He didn't read out the speech but his departure has sent a shockwave throughout the Australian political landscape.  It is believed that only Labor Leader Bill Shorten, who is in Canada for a summit, knew of his resignation.
Tanya Plibersek, the acting Labor Leader, was caught off-guard when asked about it during a press conference. "Leading, did you say, or leaving?," she said, "Leaving? Erm, erm, I'm sorry, I thought you said leading the Senate. I have only just heard of these reports so I'll be having more discussions with Stephen later in the day".
The former Communications Minister issued a statement today confirming that his resignation will take effect from the 30th of September.  This means that his chair will be empty when parliament resumes on the 10th of October.  The reasons for his departure couldn't be more personal.  Stephen and his wife welcomed their daughter Isabella by surrogacy and a separate egg donor, a first for Australia, after his wife was unable to conceive or carry a child due to ovarian cancer.  With his daughter being nine, he wants to go home and spend more time with her.
"It's time for me to hang up my boots as Captain of the Parliamentary Soccer team and spend more time teaching Isabella soccer tricks.
"I often reflect on when I was a kid, how my father who worked shifts at ICL would never miss a single soccer match from the under-11s to the under-21s. Week in, week out. You never appreciate it at the time but you realise much later how special it was. I always vowed that I would be there for Isabella like my dad was for me. At Father's Day at her school recently Bella had to write about her Dad. She wrote that she loved it when her Dad taught her new soccer tricks." Stephen stated in his speech.
Stephen is looking forward to the quieter life and says that his involvement in the NBN will be his legacy.